Earlier this week I talked about what I do and what my average day looks like. Working and traveling is quite a bit to handle, and I know a lot of you are interested in how we make it happen, so I want to go into a little more detail about how I actually get my work done and balance it with travel.

My entire life, I've used a physical planner. It doesn't matter what technology comes along, I'll buy a new one every year.

But what's funny, is that I don't take that planner with me anywhere.

I haven't since college. I don't even bring it with me to meetings because it's a pain to lug around. And when we travel, you know it's CARRY ON OR STAY HOME for us, and I just don't have room for an extra book in my bag when it only serves on purpose.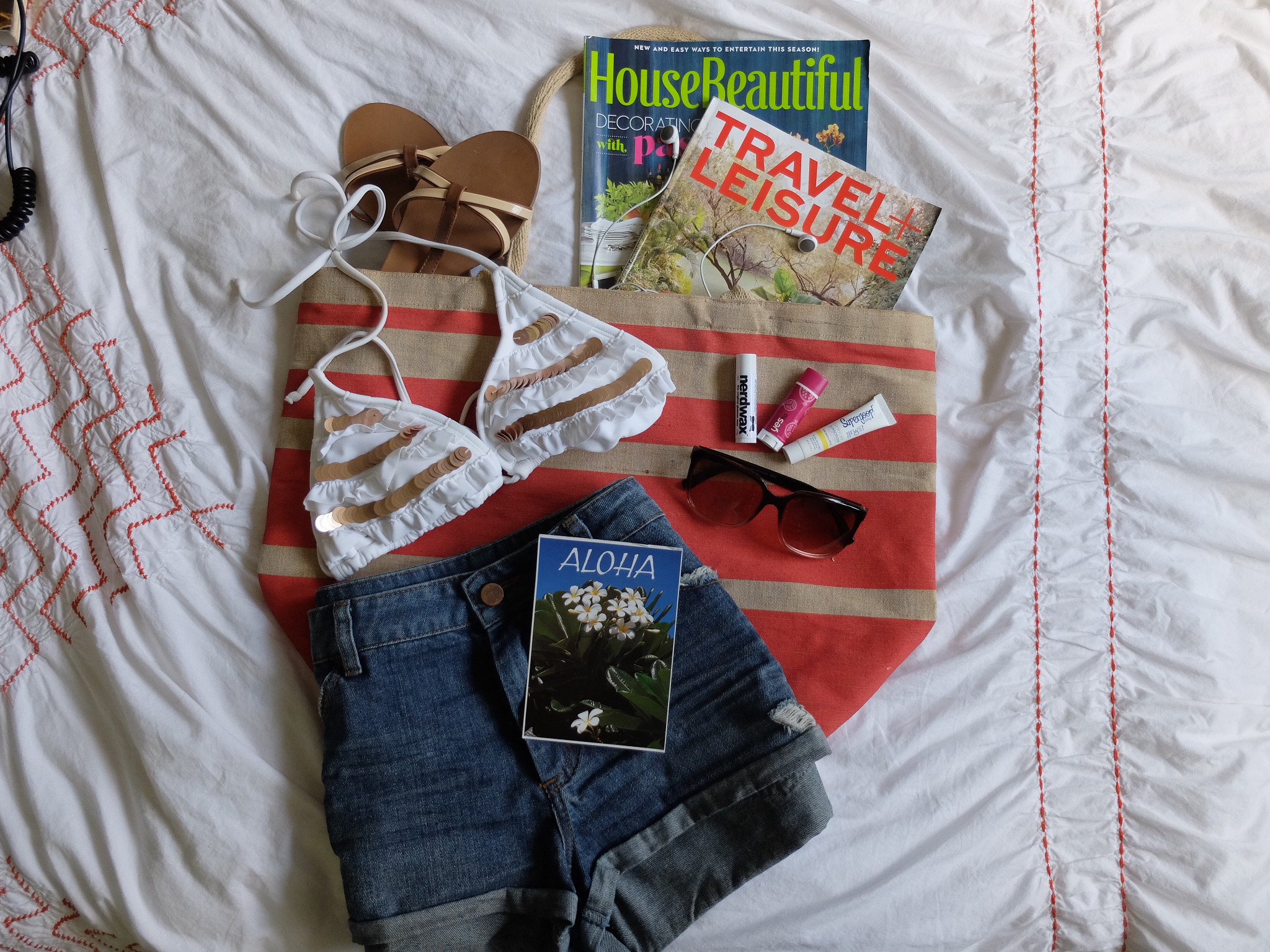 Pool ready for Vegas!

You know what goes with me everywhere, no matter what? My phone.

So lately, I've been using this chatbot called Me, and it's pretty cool; because rather than just helping me get organized, it manages me, and it's already built into my life – because it lives on my phone.
I can talk to it like I'm messaging a friend, and it'll make sure I do everything that needs to be done.
Me is a bot that lives on your Facebook Messenger and can set reminders, create lists, call you, and more. It's basically like having a personal assistant you don't have to pay. You just ask Me to remind you of something, and VOILA – you'll have someone messaging you when you need to get your work done.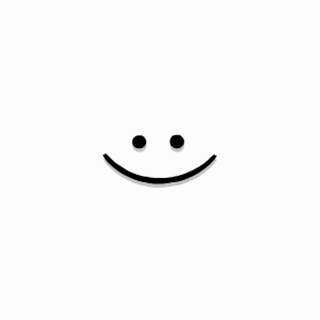 It's in beta mode right now, so there are a few little kinks, but it's pretty simple to use and but has learned my habits pretty quickly already.

The winning feature is that Me is so easy to access on different platforms from your phone or computer. You can use it through Facebook messenger, your email, SMS and a few other platforms – it's seamless and works for me at my desk or half way across the world.
OKAY – so let's talk about how I actually use this thing. 🙂

REMINDERS
Travel days have been made super easy with Me. I've got a few standard reminders that I use for each trip – here are the ones I used to prep for my Vegas trip.

– Check in for my flight 24hrs in advance
– Have Me call to wake me up 3 hrs before my flight
– Order a Lyft
– Grab my phone charger, toothbrush, and other electronics

The last one is really important, in my opinion. I've left my charger and toothbrush at home before, and it wasn't very fun.

I made that one a recurring reminder, and asked Me to remind me of this every 5 minutes so I'd actually get it done.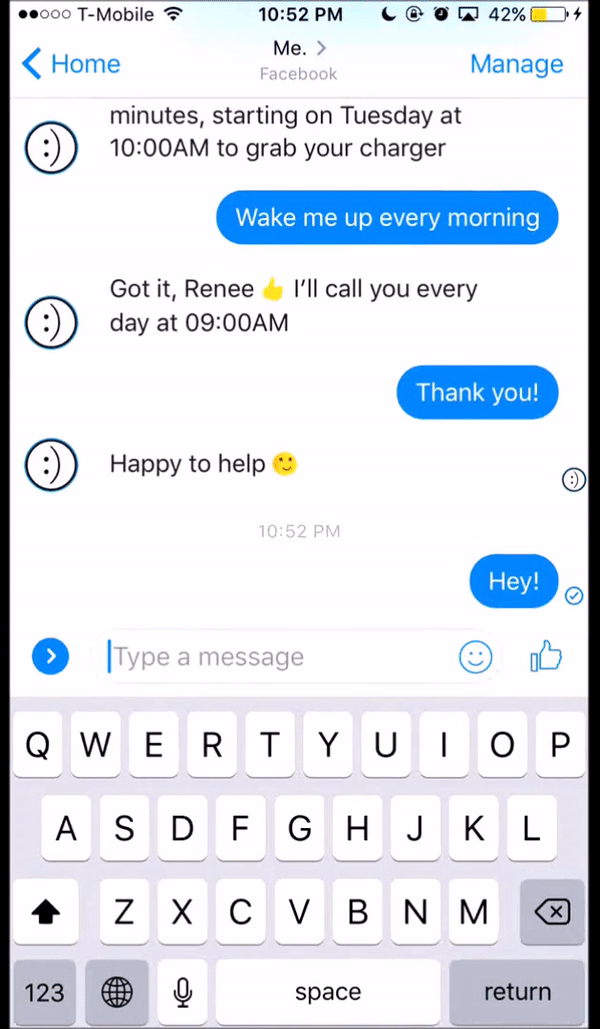 The recurring reminders have also been a great replacement for my Jawbone fitness tracker – which I loved, but it broke twice (RIP)! The Jawbone feature I miss the most was having it remind me to get up from my desk for a few minutes each hour (studies show that a little movement each hour is so important!), so now Me takes care of that.
BONUS: Me is much cheaper than a new Jawbone – it's FREE.

LISTS
Instead of having to-do lists on 30 sheets of paper, I have them all on Me! And the bot keeps them organized.
I created my entire packing list for Vegas using Me. We're doing a whole lot of random things (including going to concerts, the pool, day trip to Utah, visiting the Neon Museum, etc), so my packing list was pretty random.


Since I could add things to my packing list from anywhere (not just sitting at my desk with my physical list), I felt so much more prepared. For example, I wanted to remember to pack Camelbacks for hiking (see above! we hiked Zion National Park), and the thought popped into my head Target 3 weeks before the trip. It's highly likely I would have forgotten, but I just added it to my growing "To Pack" list.
Later, when I wanted to see what was on my list, I just asked Me to show my To Pack list. Easy-peasy!

Sorry, sad little paper list, you've been replaced 🙂

CALL

First – wake up calls. It's an obvious option, and they're great for when you know a regular alarm won't cut it, or you want a back up.

But an even better use for them, Me will get you out of an awkward situation ANY TIME.

I had a client ask me to sit in on a meeting because the person they were meeting was insistent on an in-person meeting, rather than a phone call, and this person doesn't pick up on social cues. I obliged and joined her for the meeting, and told our "friend" we were taking a call and would have to end our meeting once the call came in. I asked Me to call us after 30 minutes and it worked like a charm.

I think this would really come in handy if you were going on a blind date or meeting a Tinder match for the first time!
We're going to Greece in August and I'm already starting a packing list for that trip with Me. As I think of things over the next 2 months, I know they won't be passing ideas, but things that will actually make it into my suitcase. I love it!
My days would be a lot less organized if I didn't have Me to help. Me helps me stay on task and help keep my ducks in a row – when I'm at home or on a trip! I'm so thankful for an amazing free resource like this that can help me grow my business and do great work, no matter where I am in the world 🙂
You can start using Me for FREE right now – check it out!
More on Vegas coming soon! How do you stay organized on the go?
xo
Thank you to the Tiv.ai for sponsoring this post. All opinions, as always, are my own.