We recently were approved for Global Entry, so I thought I'd do a little info post & FAQ on what the heck that means, and who should get it!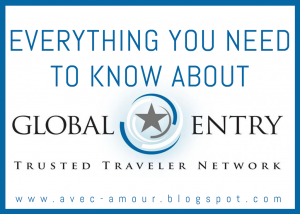 What is Global Entry?
Global Entry is a U.S. Customs and Border Protection (CBP) program that allows expedited clearance for pre-approved, low-risk travelers upon arrival in the United States. Members enter the United States through automatic kiosks at
select airports
.
We have 3 international trips coming up this year, and the idea of a breezy customs experience is one I covet. While it's not available at all airports, it will always expedite our re-entry to the US. After a 3 hour customs experience at LAX last year, I think I'd pay 5x the fee to have customs expedited.
How Long Does It Last?
How Much Does it Cost?
$100 total for the application. Yes, that's for the whole 5 years.
What Do You Get?
Expedited customs experience at select airports (but at all US airports that accept
international flights) PLUS a bonus of TSA Pre-Check at all participating airports (no matter if you're flying domestic or international). TSA Pre-Check ALONE is $89, so Global Entry is the steal of the century.
Should I Get It?
If you go out of the country even once a year, I believe this is worth it. If you fly often, the fact that you get TSA Pre-Check included, and have Global Entry there when you need it, seems worth it to me too.
First Step: Pre-Application Checklist
You must have a valid passport

Make sure you're eligible (you must have a passport from a participating country)
How to Apply For Global Entry
Create a Global Online Enrollment System (GOES) account. Regardless of your age, you must have your own GOES account.
Log in to your GOES account and complete the application. A $100 non-refundable fee is required with each completed application.
After accepting your completed application and fee, CBP will review your application. If your application is conditionally approved, then your GOES account will instruct you to schedule an interview at a Global Entry Enrollment Center. Each applicant must schedule a separate interview.
You will need to bring your valid passport(s) and one other form of identification, such as a driver's license or ID card to the interview. If you are a lawful permanent resident, you must present your permanent resident card.
OUR EXPERIENCE:
All in all, the application took me about 20 minutes. They will ask you a lot of questions about the last 5 years – where you worked, where you lived, countries you've visited – so be prepared to remember which apartment you were living in in 2013. Once completed, we were pre-approved in about 3 days and booked our interviews. Matt and I booked back to back interviews at 2:45pm & 3pm in Memphis (more on that in a minute). After reading online reviews, I also brought other forms that linked my name to my address (above and beyond my license & passport)- W9's, pay stubs, etc. We did not need these, but it never hurts to have a back up!
The interview was easy – they asked me if I'd ever been arrested, they asked me what we did in Costa Rica – very conversational and was over in about 3 minutes. Then, they take your fingerprints & tell you an email will come in 24 hours or less. Ours arrived in our inboxes before we got to the car 5 minutes later. We quite literally could have taken a flight at 4pm and had all the benefits of Global Entry.
The experience could not have been more simple.
A FEW TIPS
Apply in Advance
While our process was a swift one (less than 2 weeks), sometimes it can take longer. The online pre-approval is typically less than a 1 week turn around, however – getting an in-person interview is what can take so long. We checked Nashville for interviews (keep in mind, this was 2 weeks ago, around January 15) and there weren't any available until JUNE. Nearly 6 months away. With a trip in March and one in May, this felt hopeless and I was so bummed we hadn't taken care of this sooner!
It Might Be Worth the Drive
We checked surrounding cities – Louisville, Atlanta, and Memphis – and while the first two were also booked out, Memphis had appointments literally the next DAY. We booked our appointments for the following Saturday (about 10 days in advance) so we could go over the weekend, but if we had the time, we could have driven there the next morning.
Be Honest On Your Application
There's no need to lie – if you lie, they will most likely catch you. If you're truthful, it may not even be an issue. Also, if you've had any legal issues in the past, bring any documentation that might clear it up. There's no hard and fast guideline to what is/isn't acceptable in this program, but I'm guessing shoplifiting when you were 16 probably won't stop you from getting Global Entry. Just be prepared with paperwork.
I am SO EXCITED that we have Global Entry now – I have a few friends with it and they can't say enough about it! Do you already have Global Entry? Do you think you'll apply?
xo