I like to think of myself as low maintenance, but I think the truth is I draw the line at bugs and sweating all night. So, as you can imagine, camping sounded good in theory but I had some concerns.
I found the best way to overcome these concerns, and to thoroughly enjoy myself, was to be extremely prepared! Isn't that always the solution? 🙂 I read this article in Bon Appetit and I was inspired to have an enjoyable camping trip with a slightly upgraded menu.
We went camping over Labor Day, and although Nashville's summer has been mild, this was a particularly warm weekend. Our camp site at Henry Horton State Park ended up being very shady and nice, providing a little solace from the sun. (I'll mention more about it, but camping at this state park was really wonderful!) 
From one city girl to (potentially) another, here's my list of being prepared for camping.
WHAT TO PACK
SLEEP SOUNDLY
Tent

Air Mattress

Battery operated air pump (unless you KNOW you'll have power! We did not)

Bedding: lightweight sheets (ones you don't necessarily care about), a light blanket, and pillows

Lighting (headlamps are handy, but cell phone lights or flash lights will work too!)
EAT ALL DAY LONG
I really didn't want to eat burgers all weekend, so I got serious about our menu for the weekend.
Cast iron pans are going to be your best friend. You can put them right over the fire! They'll make the best eggs & pancakes you've ever had (more about cast iron here). Dutch ovens (non enamel coated!) also work wonders.
Additionally, stainless steel pots and pans do great over high heat.

No matter what you do, leave the teflon/nonstick pans, and plastic spoons & spatulas at home. Metal or cast iron only!

Bring 1-2 big bowls that you can use to serve & mix in. No need to bring the whole kitchen.

A few multi-purpose serving spoons/tongs

Paper Plates & plastic forks are great. Disposable and less dishes to do in the woods. Bring twice as many as you think you need. 

Tin coffee cups or disposable coffee cups, depending on your style

A roll of paper towels

Tin Foil

All your normal spices/condiments. For me it was salt, pepper, oil vinegar, garlic, mustard, hummus, salsa. I picked up a few packets of ketchup and mayo from the Publix deli on our way out incase anyone wanted them (they did!)

A blender bottle (used for protein shakes) can be very multi functional. I used it to make salad dressing, mix batter and more!

Breakfast

We cooked pancakes, eggs, bacon, and even cinnamon rolls over the fire. They were all easy and even tastier cooked over an open flame.

Lunch

Keep lunch easy with snack-y foods, like raw veggies, hummus, hard boiled eggs, pretzels, sandwiches, and cut up fruit. 

Dinner

Prep as much as you can at home. I pre-cooked pasta to make a pasta salad (just add basil, tomatoes, and fresh mozzarella at camp), and quinoa that was easily re-heated or added into a salad.

Chili was also a game changer: cooked at home, frozen (helped keep our cooler cold!) and reheated over the fire. It was amazing. We even made cornbread in the skillet which was an amazing addition!

Salad kits were great as the prep work was minimal, and we still ate tasty gorgonzola and almond salad!

In the spirit of camping, of course there were burgers and hot dogs. Just not every night 🙂

Snacks

Chips and salsa are always a winner. 

We brought some hard cheeses (they do better without proper refrigeration) and enjoyed a custom cheese plate in the middle of the woods. Yeah, definitely not roughing it.  

Chex Mix and trail mix seemed fitting and were great by the river or over a game of cards

S'mores…. duh! We got creative with Oreo's instead of grahams, and Goo Goo Clusters or Reece's instead of chocolate. (Heather is a genius)

Drinks

Bottled water was the obvious choice. Stay hydrated!

La Croix with a slice of lemon was a fun day-drink

Bota Box of Sauvignon Blanc was so easy and lasted the whole weekend – no corks, no vinegar taste by day 3. And 4 bottles per box… win. Add some La Crox or Perrier for a spritzer

We made Moscow Mules (minimal ingredients) and they were a great addition around the fire! 

Leave the beer & the bottles of wine at home. They are cumbersome and complicated. 

CLEANING UP
A few extra ziplock bags 

A set of Purel wipes to get rid of anything nasty

Brillo Pads Pre-Soaped – these were AWESOME and I got them at the Dollar Store.

Microfiber towels (also picked up at the dollar store)

Extra paper towels. You'll need them.

A gallon jug of water (that you can refill at the bath house) to make your own dishwater

Tin foil 

A medium size tupperwear bin that can be used as your "sink". This is also a great place to store dishes after they're washed to keep them away from the elements.

Shopping bags are great for trash, as you won't want to keep scraps around all night. I budgeted 7-10 bags per day for the 8 people, and that worked well.

WHAT SHOULD I WEAR
My friend Heather asked me if I was going to be "Sporty Spice" or "Cute Camper Girlfriend" for our weekend in the woods – I opted for both.
Running shoes & socks

Workout clothes (for hiking and trails)

Bathing suit

Cover up

water – friendly flip flops (wore these most of the weekend)

lounge clothes (jean shorts, tank tops, easy sundresses, romper)

Comfortable pi's

light sweater for nights around the fire 

Sunscreen, bug spray, and your favorite facial wipes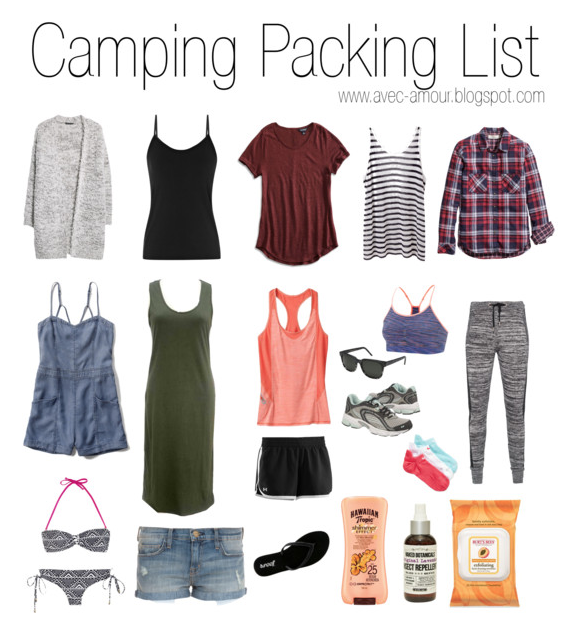 EXTRAS YOU WON'T WANT TO LEAVE BEHIND
Clothesline / clothespins. Hang up wet bathing suits, towels and the like so they don't get nasty.

A few extra towels…. just incase.

Bug spray

Sun screen

Proper footwear 

Firewood/fire starters (or pick some up on your way)

Hammocks

Camp Chairs

Ice, ice, ice!
Guys, camping is FUN! Don't forget to have some of that. And even if you just throw some burgers in the cooler and sleep on the ground…. it's gonna be a great memory 🙂
What's on your camping list? What did I forget?
xo