We all have them in our closet – amazing pieces you never wear. There are millions of reasons! You wore once & didn't like in on yourself. You bought it on sale but it didn't really work. It doesn't fit right. You never have the right occasion. It was a gift. You wore it a lot last year, but have't put it on once this winter.

I was so sick of looking at my closet (completely full, mind you) and having NOTHING to wear….. or more annoying, wearing the same 5 outfits over and over again. Why was I wasting space on the rest of this stuff? It was too nice to throw out and it was nice enough I didn't want it to just sit in Goodwill for the rest of its life.

Enter: Poshmark.

Now I'm sure this isn't the first time you've heard about Poshmark. I downloaded the app for the first time in 2012, tried to sell a few things, but didn't make any progress. So I deleted it and moved on. About two years ago, I had a friend mention she'd recently sold some stuff, so I decided to give it another shot. I downloaded it, uploaded a few pieces (J.Crew, H&M, Victoria's Secret), and started a new process. Before I knew it, I was selling an average of 1-3 items per week! While that might not be big bucks, I made over $150 in that first month with little to no effort. As you can see, none of my pieces were super high end or designer, they were just everyday mall brands in good (or new with tags in the case of the VS) condition!

I'm going to share my keys to success, and hopefully help you get rid of a few things and make a few bucks on top of it.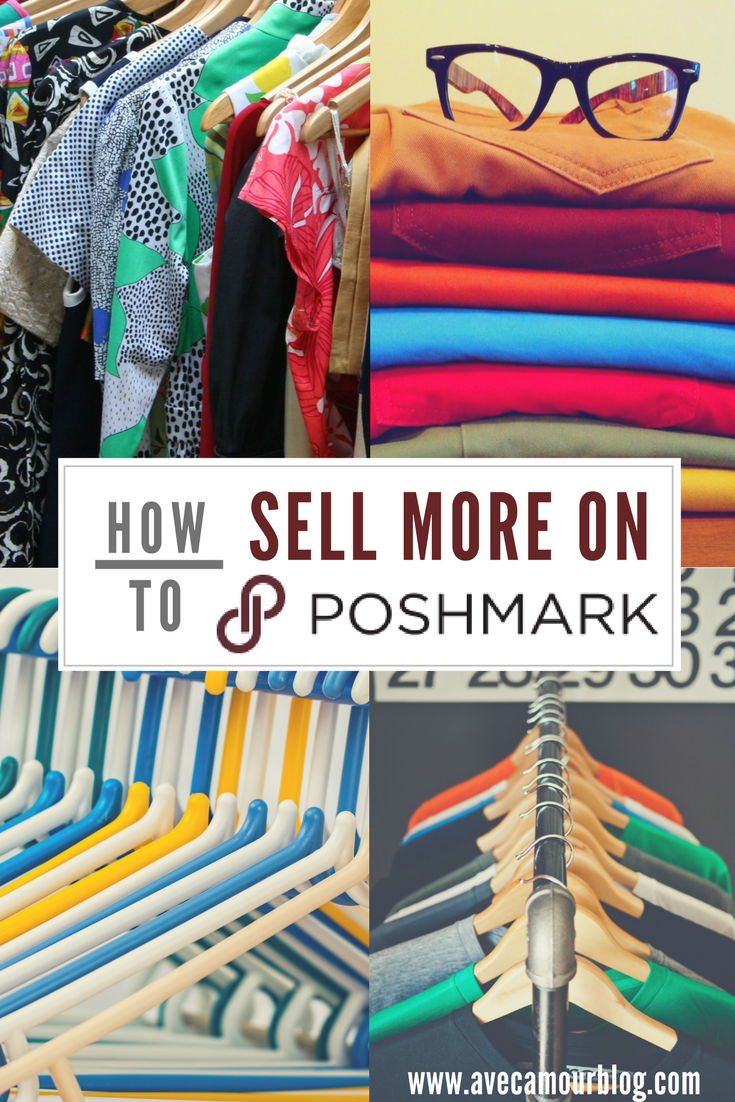 Tips On Listing Items
1. Take Great Pictures
Either on a mannequin or laid on flat on the floor or your bed. Good lighting. Front, back, inside or bottom (on shoes or purses!), and DEFINITELY any imperfections. Imperfections are not a deal breaker for most people – but any undisclosed imperfections can jeopardize you making your money. I also always take pictures of any special detail up close (like beading or embroidery) and the tag to prove the brand & size. It also helps to have a photo of you wearing the item.

2. Give Details In Your Listing
For example, a size 4 skirt isn't super descriptive. BUT saying it's 24″ long, is made of a linen material, and zips in the back gives people a good idea of what they're looking at. Also note if it runs big or small, stretches out after a few wears, and even if it is or isn't see through. People will ask these questions – it's better to have all the info up front. I also try to mention my shape – i.e., "I typically wear an 8 in shoes, but these 8.5's are snug!" or "I'm 5'2″ and this dress was too long unless I wore heels". It gives the buyer confidence they know what they're getting.

3. Add A Bundle Discount
I suggest adding a bundle discount of 20% to 2 items or more. It's a lot harder to sell things a la carte, and you'll get rid of more and make more money by offering good bundles! 

Tips On Pricing Items
1. Price High, Then Lower
I'll get into the process of this, but when you first list your item, price is about 20-25% lower than what you paid for it. Meaning if you have jeans that were $50, list them for $40. Just for now. It's unlike you will get $40, but just go with it.

2. Have An End Price In Mind – But Be Realistic!
Those $50 jeans are no longer worth $50 (unless they are selling out everywhere and people are tripping over themselves to buy them), but let's pretend they are just normal, $50 jeans. For these $50 jeans, I would hope to make around $10-15, but I wouldn't price them that low initially. If you think you're going to make nearly what you paid for things, Poshmark isn't for you. I'll go into detail in a minute.

Tips On Building Your Network & Actually Selling!
This is what I do every 1-2 days. I do this while I'm watching TV, or waiting for dinner to cook, or when I could be mindlessly scrolling through Instagram. It takes 5 minutes and you'll accomplish a LOT.

1. Add Friends. Add Add Add Add Add.
Not your actual friends – your new Poshmark friends. My favorite way to do this is to go by "brands" and add friends that way. I'll use my own closet as an example – I had NARS makeup, Fabletics, J.Crew and H&M for sale. I clicked on NARS and added every person in there for about a minute. Then did the same thing for Fabletics, and so on. This means you're adding people who are interested in your brands, because they have the same brands in their closet.

2. Share & Like
Of your new friends, share & like some of their items. Once again, spend about 2-3 minutes doing this. I would suggest liking & sharing things similar to the items you're selling and in the similar price range. If you have your H&M Jeans, I wouldn't suggest sharing a Louis Vuitton Purse for $2300. Not your audience. Pick other people who are selling things under $100.

The object of this is to have other people add you as a friend, look through your closet, like & share your items.  *I would suggest turning off the push notifications EXCEPT "Offers" "Comments" & of course "Purchases"!

3. Lower Those Prices
Every 3 days or so, I'll lower my price by 10-20%. This seems drastic – but it works. So our $40 listing price for jeans goes down to $31 at least. 3-4 days later, it goes down to $24. This is basic marketing. People LOVE to think they're getting a good deal. By having the price higher, they think they're saving $20 off you original listing price, which is a great deal for them! When you lower 20% or more, all of the people that 'like' your item will be notified. This helps sell!

4. Take Offers
Offers are my favorite thing on Poshmark. Know when to say yes. I recently had someone offer me $10 lower than my price – I countered at $5 lower, and she took it. Win Win for both of us! Negotiate and be reasonable, and you'll make a lot of sales. 

5. Don't Forget to Calculate Commission + Shipping
The only thing I hate about Poshmark is they charge the buyer $6.50 in shipping. That's high! Especially considering most items I ship are small – like a sundress or a top. Remember this when you're pricing. I also dislike the 20% commission they take off sales (so your $25 sale is actually only $20 in your pocket) BUT they facilitate it and got you a huge audience, so I feel like it's worth it. But keep in mind these costs when pricing. Would you pay $40 + $6.50 shipping for used jeans? 

The Golden Rule Is….
Settle for prices you would pay yourself. The reason most people don't sell on Poshmark is they think their item is some how worth more than it actually is. It's like when you buy a car – once it rolls off the lot, it goes down drastically in value! Why would I buy these used $50 jeans for $40+shipping, when I could probably get my own brand new pair with free shipping directly from the store? 

But my theory is, it's worth $0 sitting in your closet not being worn. Wouldn't it be better to make $10 to put towards something you actually would wear?

Happy to answer any questions…… and happy Poshing! If you haven't signed up for Poshmark, you should! Use my code HEXLN to get $5 towards your first purchase (full disclosure, I'll get $5 if you buy something, but only if you buy!)
Do you sell anything online?
xo