Matt and I celebrated 11 years this past week (yay us!) and to do a quick celebration, we decided to book a 1 night stay-cation at a hotel in Nashville. We selected the Conrad because of its beautiful design, it's close by but not downtown (I think this is a perk even if you're visiting, since it's less than a mile!), and it was available with Hilton Impresario Perks.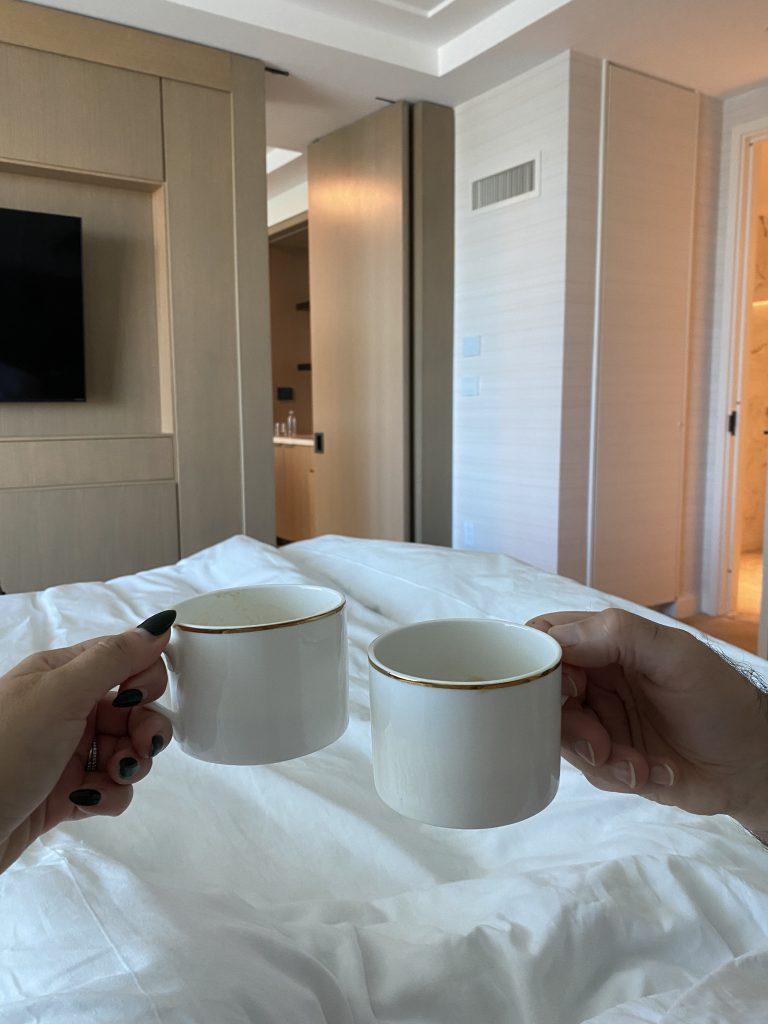 What is Hilton Impresario?
Hilton Impresario is a program designed for luxury travel advisors to access exclusive benefits and amenities for their clients at participating Hilton properties. These benefits can enhance the overall hotel experience and may include:
Room Upgrades: Clients booking through Hilton Impresario may be eligible for complimentary room upgrades, subject to availability at check-in.
Daily Breakfast: Some packages include complimentary daily breakfast for guests during their stay.
Resort Credits: Clients might receive resort credits that can be used for on-site amenities such as spa services, dining, or other hotel activities.
Early Check-In and Late Check-Out: Subject to availability, clients may enjoy early check-in or late check-out privileges.
Welcome Amenities: Special welcome amenities or gifts may be provided upon arrival, adding a personal touch to the guest experience.
VIP Status: Guests may receive VIP status and recognition during their stay, making them feel more valued and attended to.
It's important to note that specific benefits can vary depending on the property, dates of travel, and the terms agreed upon by the hotel.
The Conrad had ALL of these offered, so I wanted to try them out first hand. I booked the hotel under Matt's name, and emailed that we had booked his room with Hilton Impresario to confirm perks. I did not want them to feel pressure of a Travel Advisor staying, and wanted to see how any guest would be treated, so I did not mention it was for me. The hotel staff was so friendly, they confirmed they would have an anniversary treat delivered, and would upgrade "my client" 😉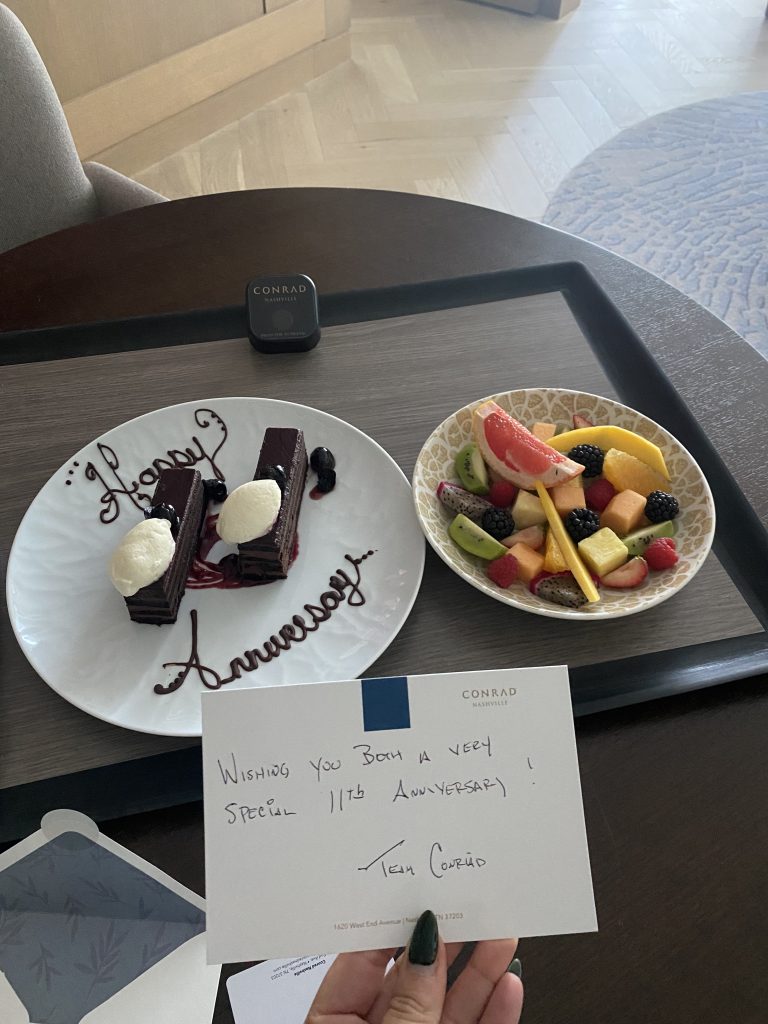 Since we had booked the regular King Room, I assumed we would be upgraded to something like the Deluxe King Room or Corner King – an upgrade, but nothing insane. Boy oh boy, was I wrong – they upgraded us to a One Bedroom Suite with a Balcony! It was huge and absolutely gorgeous, had a tub, shower, two bathrooms, a giant living room and a balcony with two chairs. We ate dinner at the Blue Aster Restaurant downstairs (to use our Resort Credit) and were given $30pp for breakfast, which we used for room service. The Impresario rate was $15 more than the regular rate…. but we were given $160 in food and beverage credit, never mind the huge upgrade (~$300/night room upgraded to ~$1300/night room). The upgrade is not guaranteed, but it was a really fun surprise. (here is a link to a time lapse video I took in the room)

Needless to say, I was extremely impressed with the perks of this program! Impresario is just one of the many perks programs I have access to (a few others are Virtuoso, IGH Luxury, Four Seasons Preferred, UJV, and so on!), which means thousands of hotels have the ability to give you more for your money.
The only way to access these perks is to work with a qualified travel advisor (like me!) who can assist with the booking process. Let's make your next trip extra special!!!
xo