The Dutch aren't really known for their food – with the exception of apple pie (which we had!) and pickled herring (which we did not!). However, that didn't stop us from enjoying a lot of different foods in Amsterdam! We were only there for 3.5 days, so there were plenty of other places we never got to try. But I thought we got a pretty good sampling of restaurants while we were there. There was only one restaurant we didn't love, and I didn't bother taking photos, because it was only OK. Here is everywhere else we ate – and loved!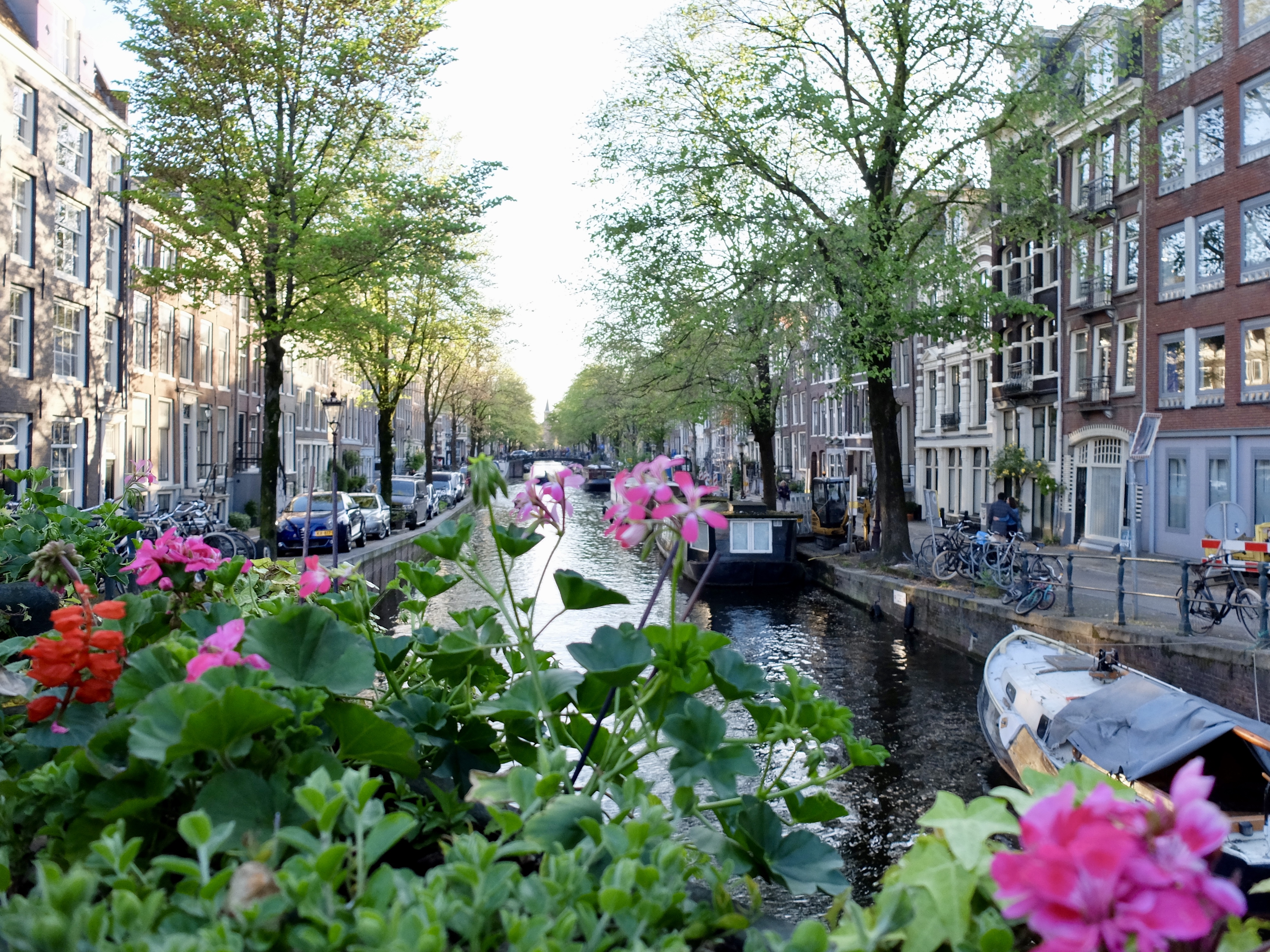 Bar Bukowski
This cute spot was mainly picked because of location – we landed in Amsterdam at 7am and we were starving! After dropping our bags at the hotel, we walked a few blocks and found this sweet spot. We had a delicious breakfast, escaped the rain for a bit, and were able to people watch from our window seat. The interior set up (which I regrettably don't have photos of) was really cute. It was very much a cafe set up, with mostly couches and stuffed chairs as opposed to traditional restaurant tables and chairs. It reminded me of Paris a bit, incredibly charming.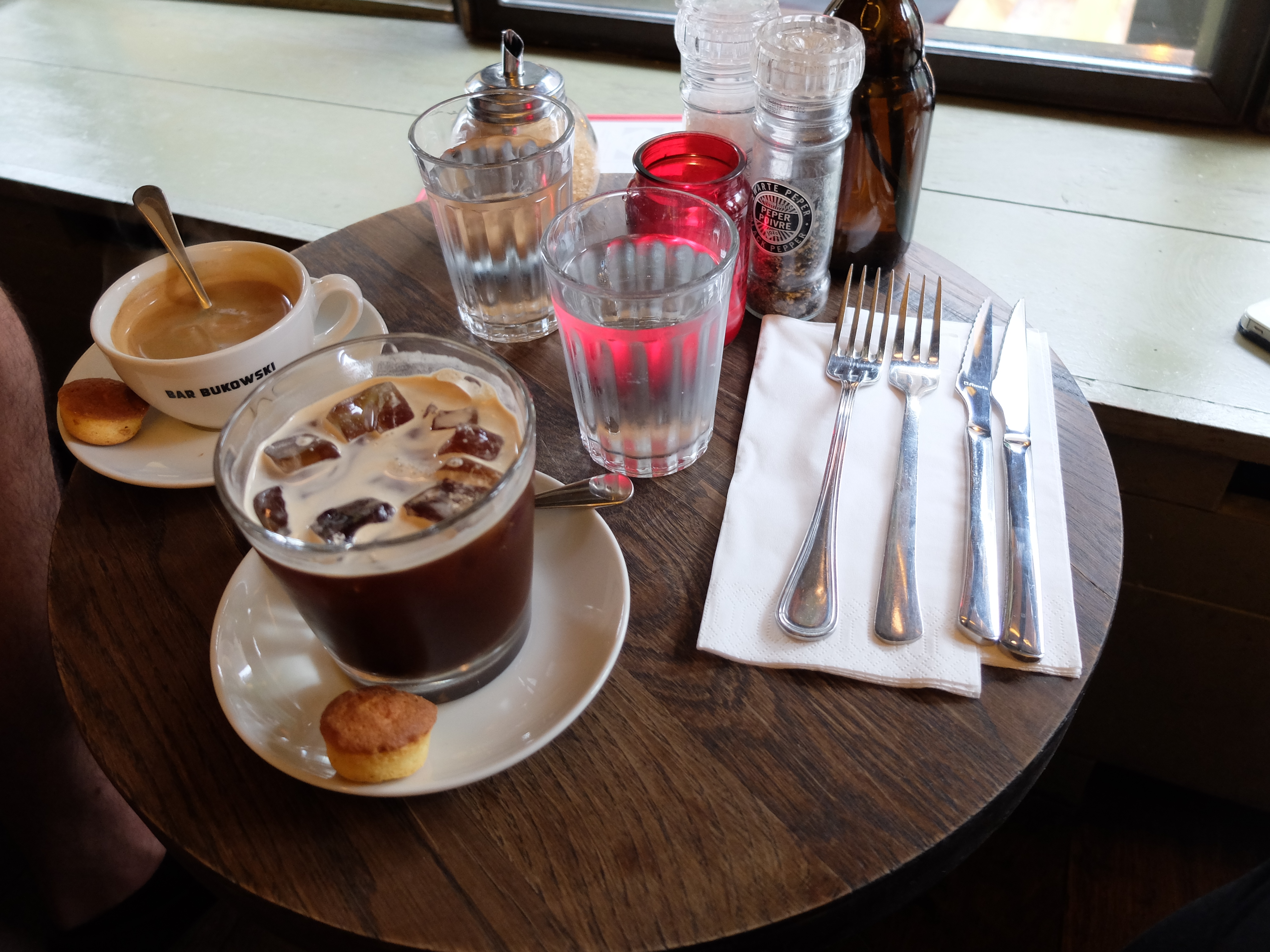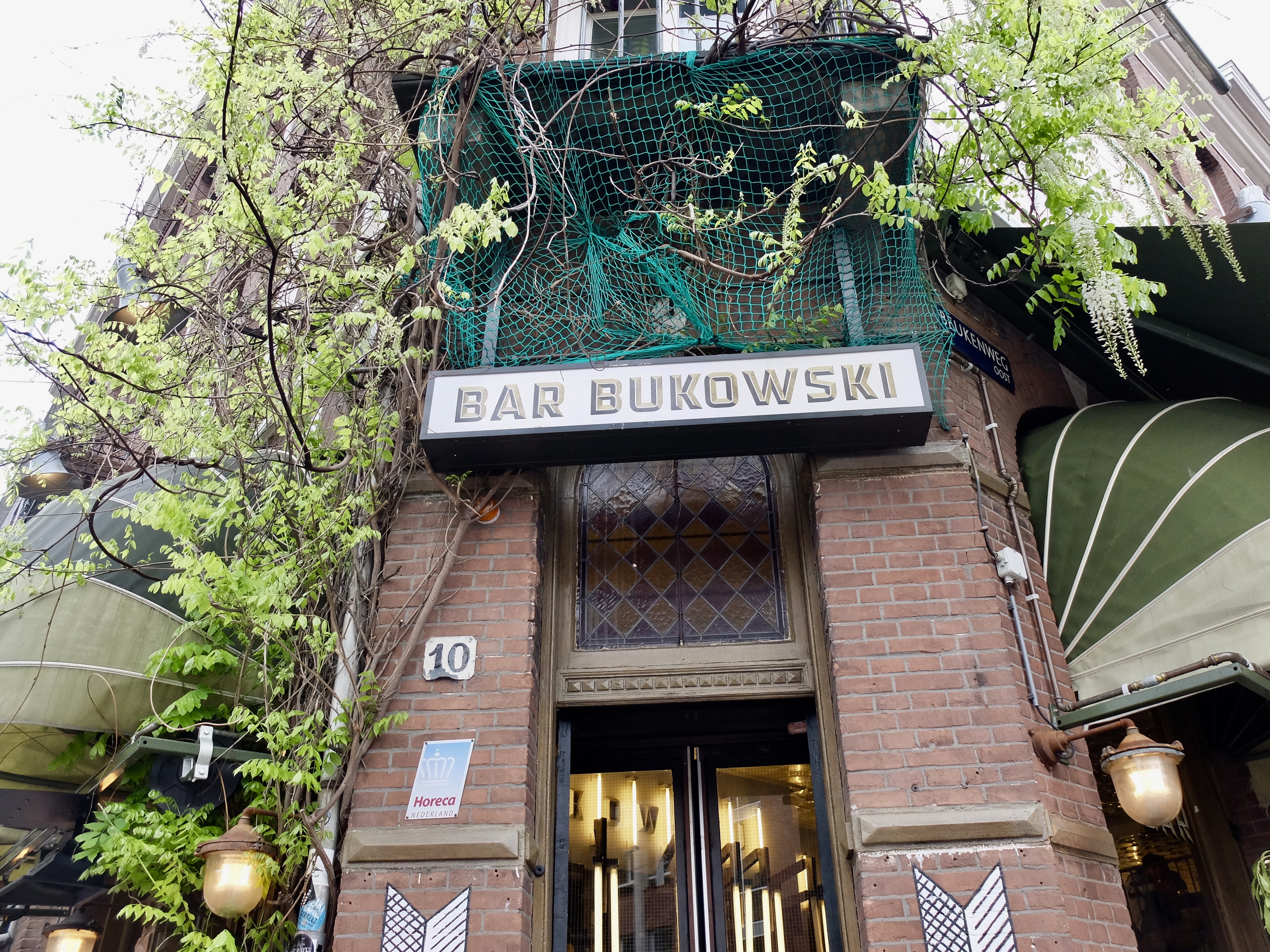 De Biertuin (The Beer Garden)
This spot was also close to our hotel, but the atmosphere was one of my favorites! They had amazing local beer from Brouwerijtij' (we visited their tasting room later on in the trip), the food was delicious (do you see that huge bowl of grilled veggies!), and they had an amazing outdoor patio! I should note, so many places had great outdoor patios, especially in Ooosterpark where we stayed. They had these big umbrellas that opened up and covered the entire thing when the rain started back up, so it was the perfect patio experience.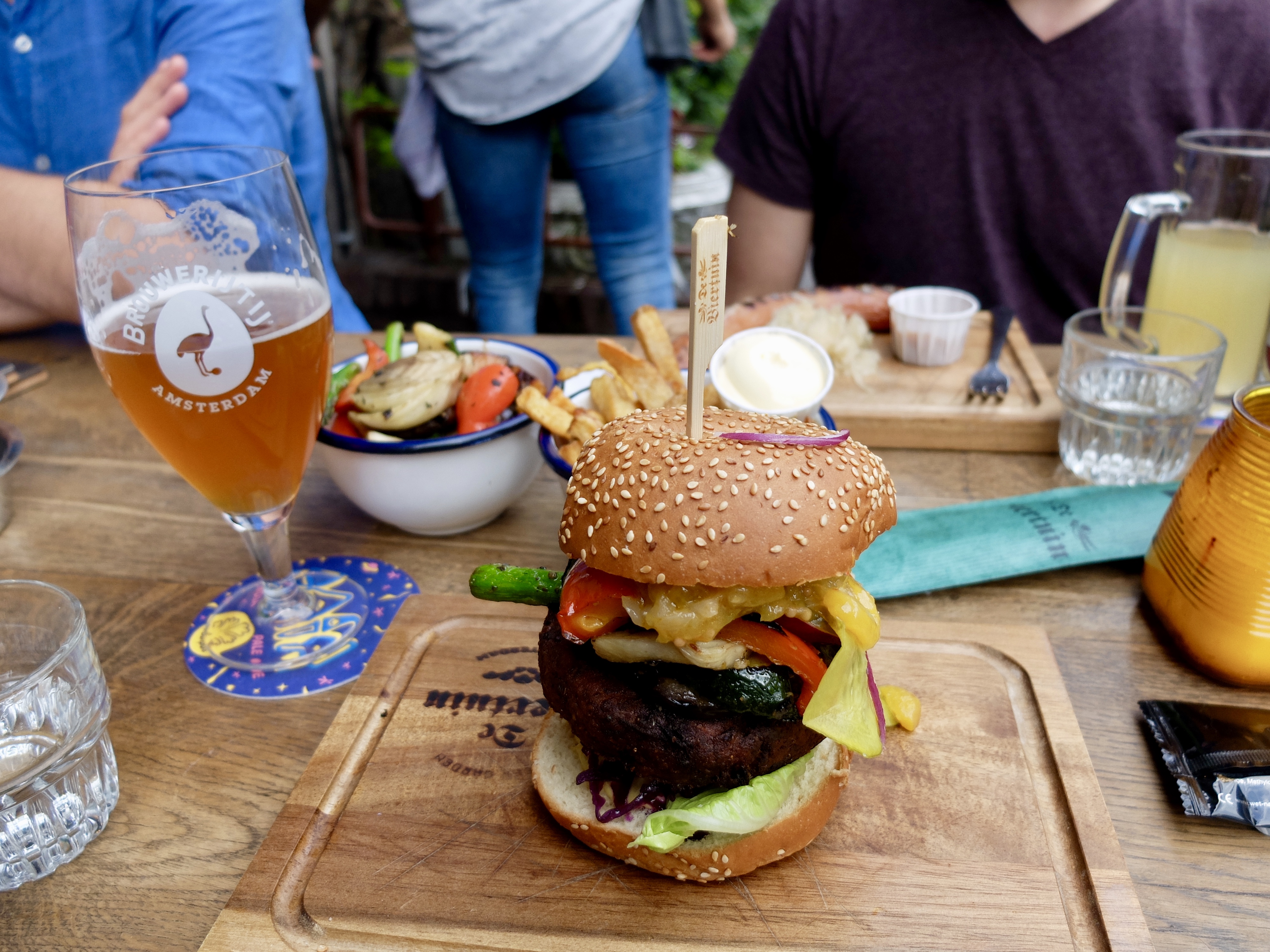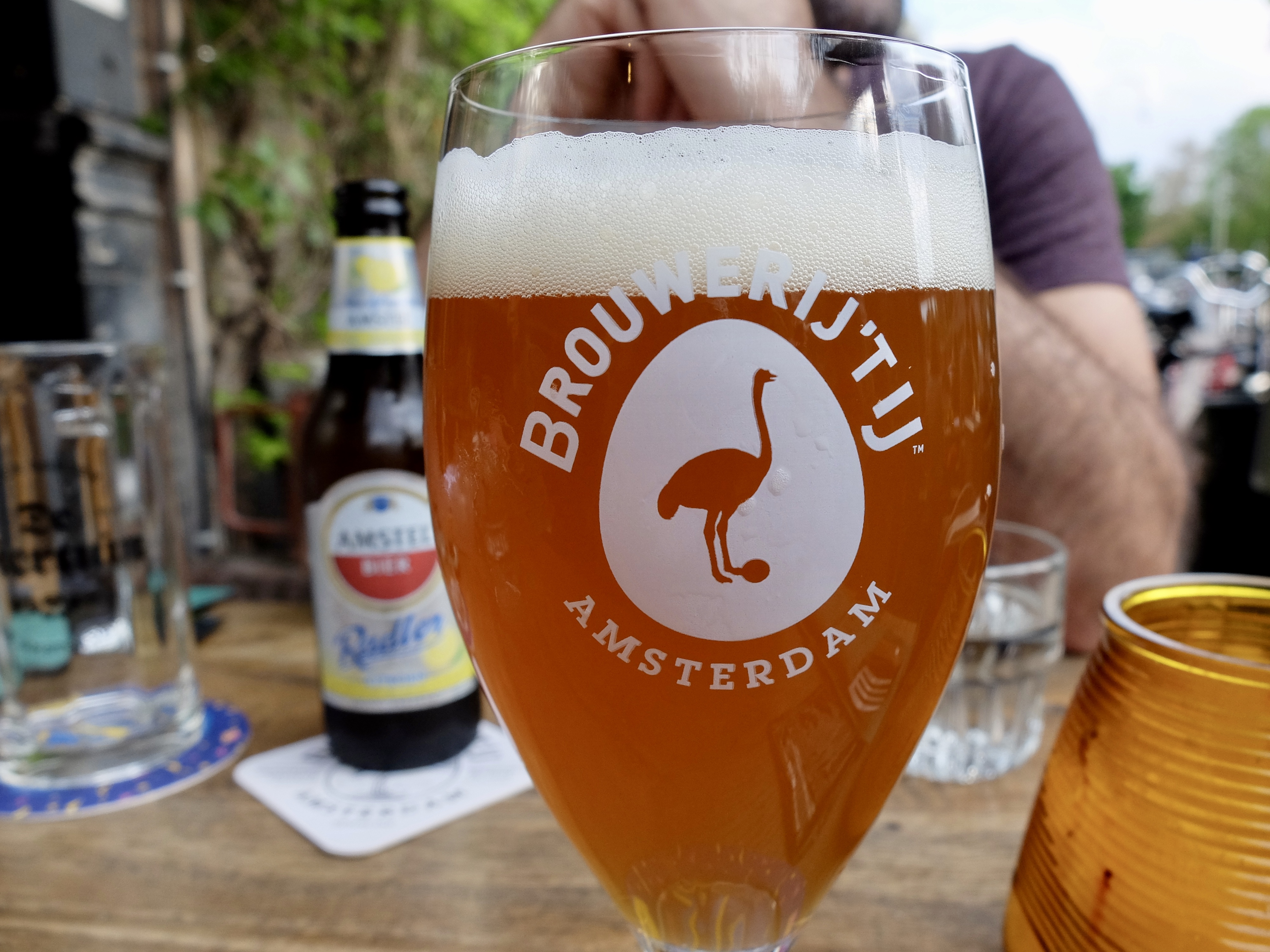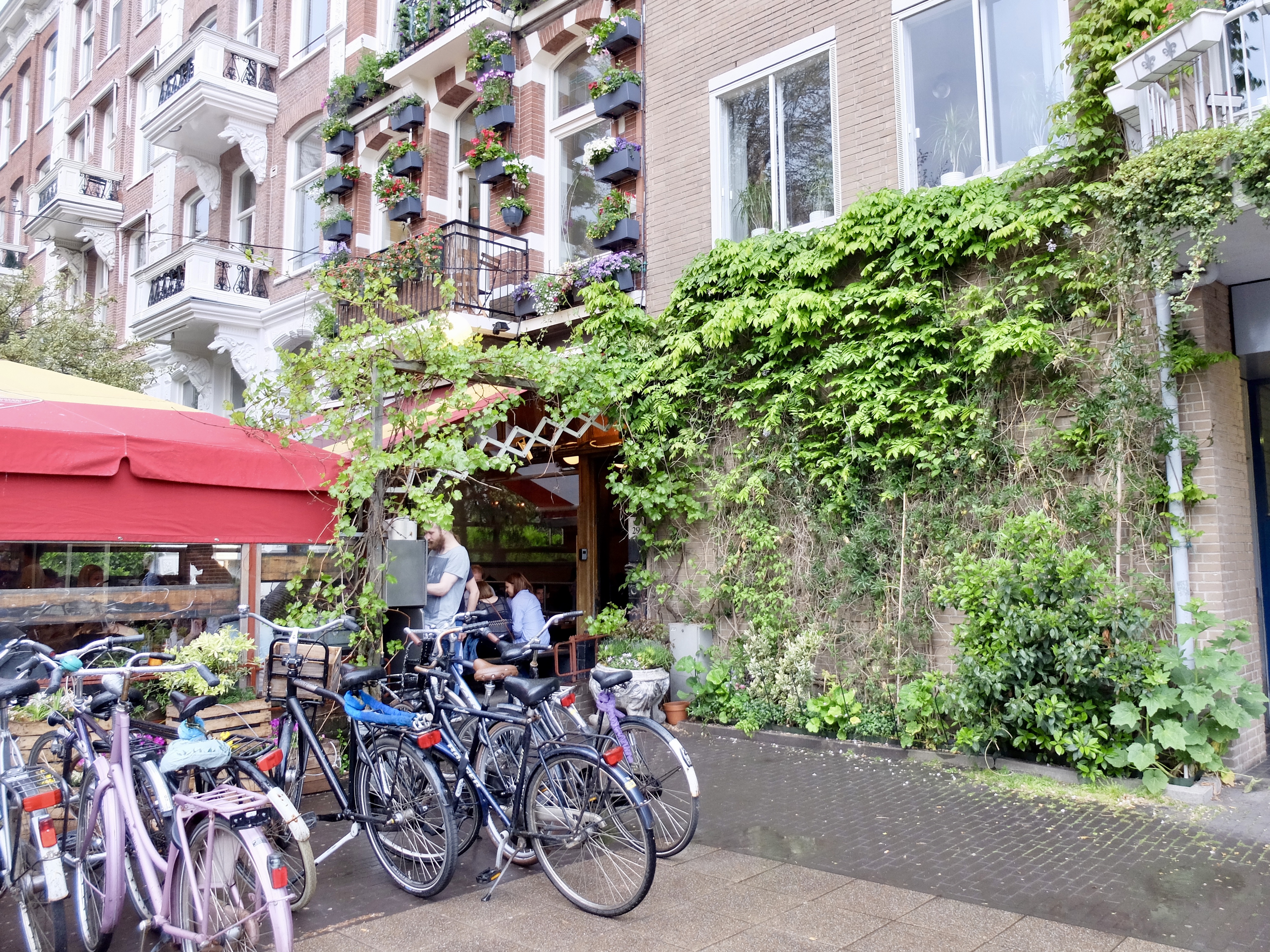 Bakhuys Cafe
Be advised – "coffee shop" is a recognized spot for, uh, other refreshments in Amsterdam, if you know what I mean 🙂 So finding actual COFFEE to fuel your day can be hit or miss, even with the help of Yelp and Google! We found Bakhuys on a walk to brunch one morning and loved it. We also split an olive baguette, which was so incredibly delicious. They served Bocca Coffee which was so tasty! The specialty coffee scene has really started to expand in Amsterdam, and this was probably my favorite we had. I think I ordered a Cortado – and they gave me the world's tiniest to go cup…. so adorable 🙂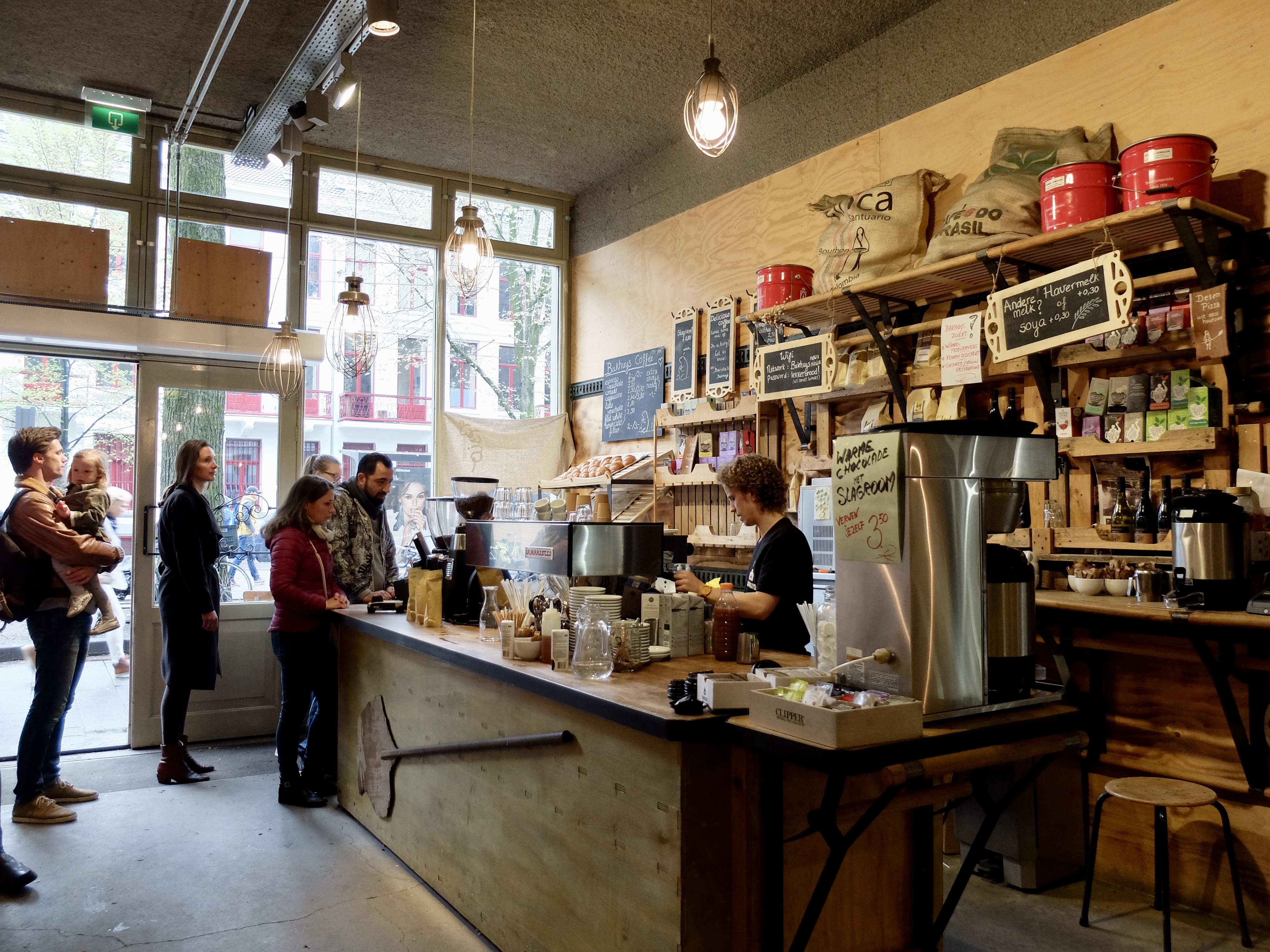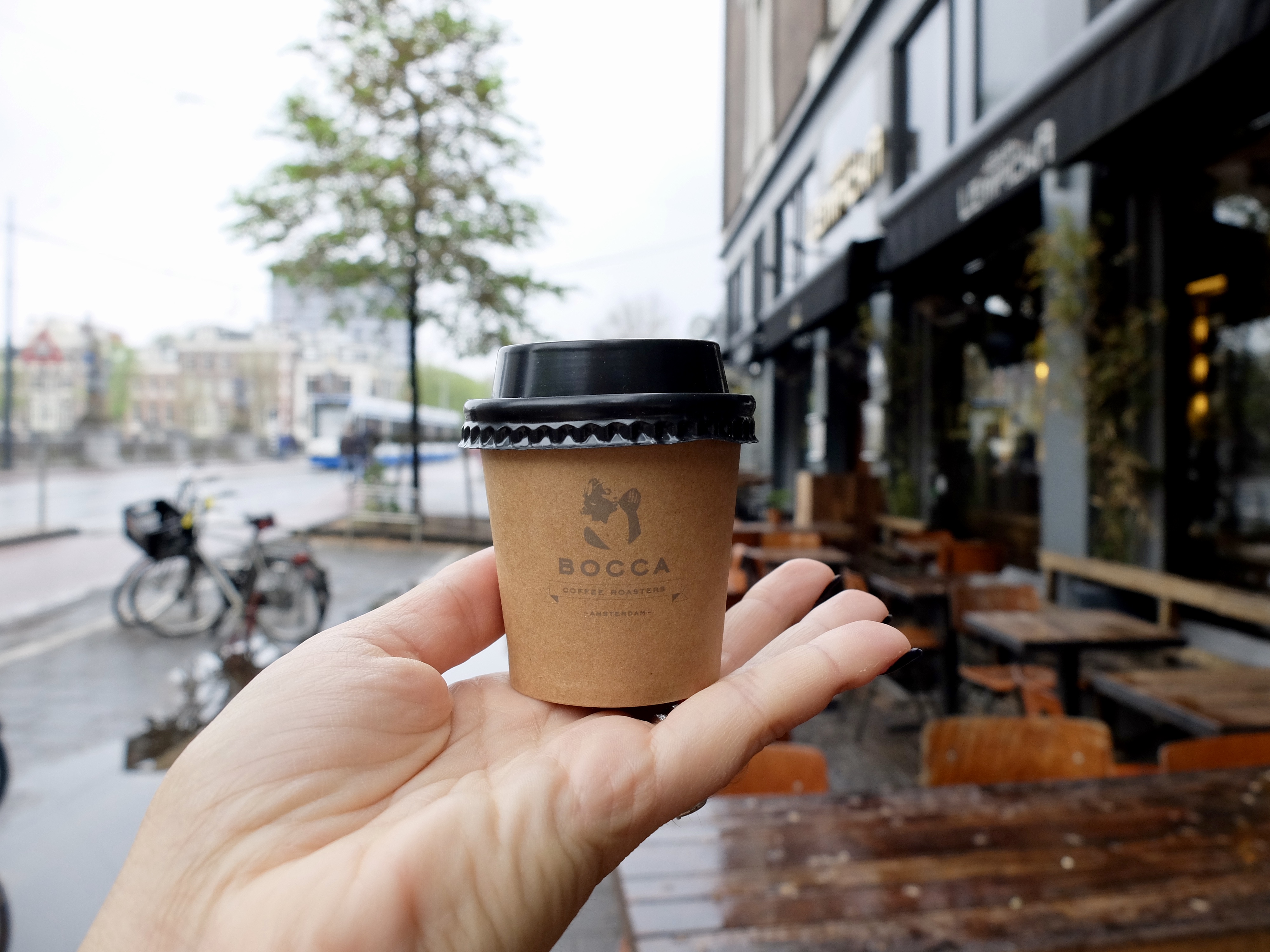 The Avocado Show
This restaurant was circulating the internet like crazy this winter, so I knew we had to try it when we visited! Every single thing on the menu included avocado. I ordered a dish that was two avocados that were covered and filled with all sorts of goodies, and Matt ordered an avocado & chocolate waffle. His waffle was easily one of the most unique and tasty things I've ever eaten! Avocado and chocolate, who knew? Maybe I'm late to the party on this one. But this restaurant was so fun to try.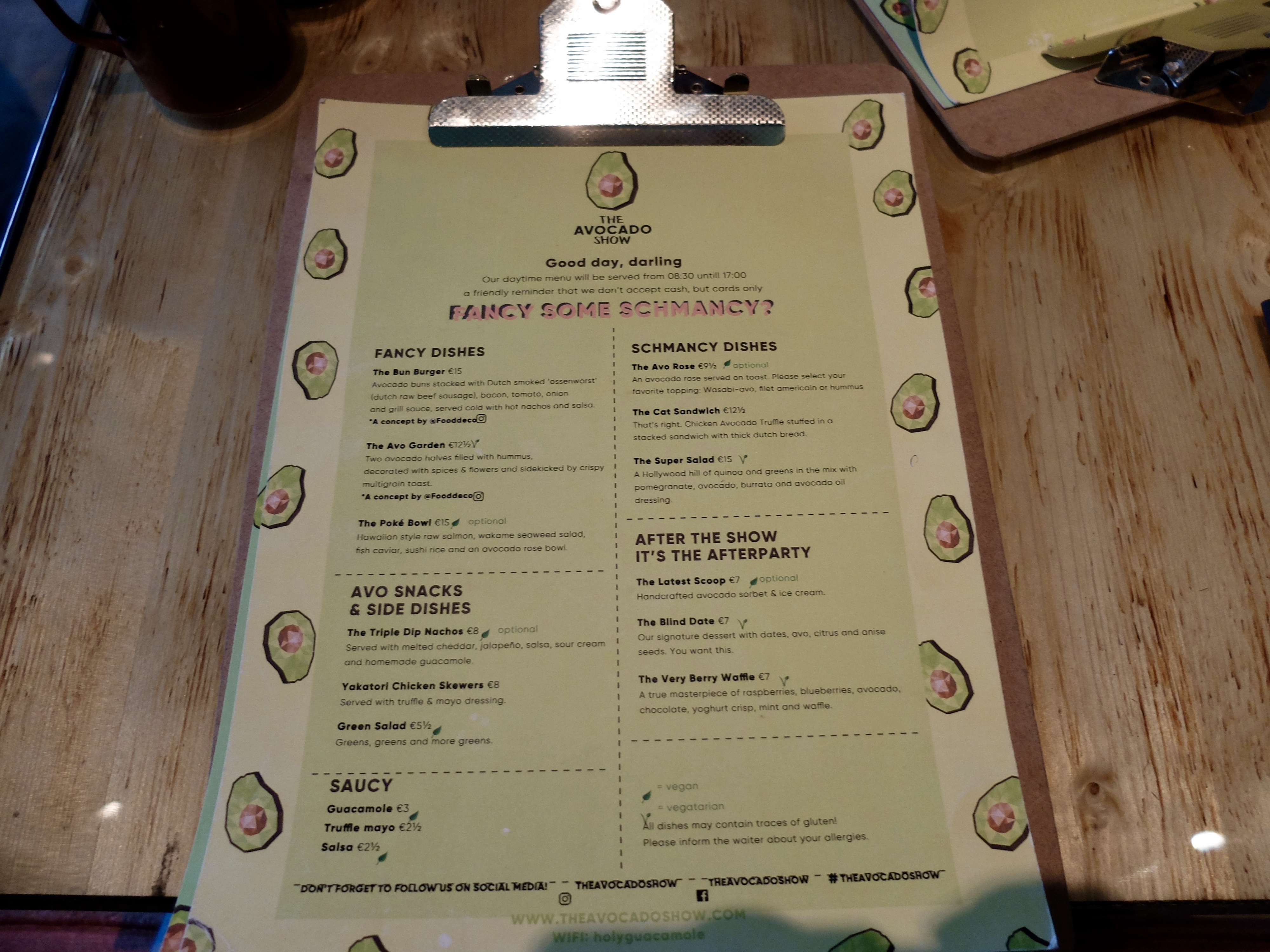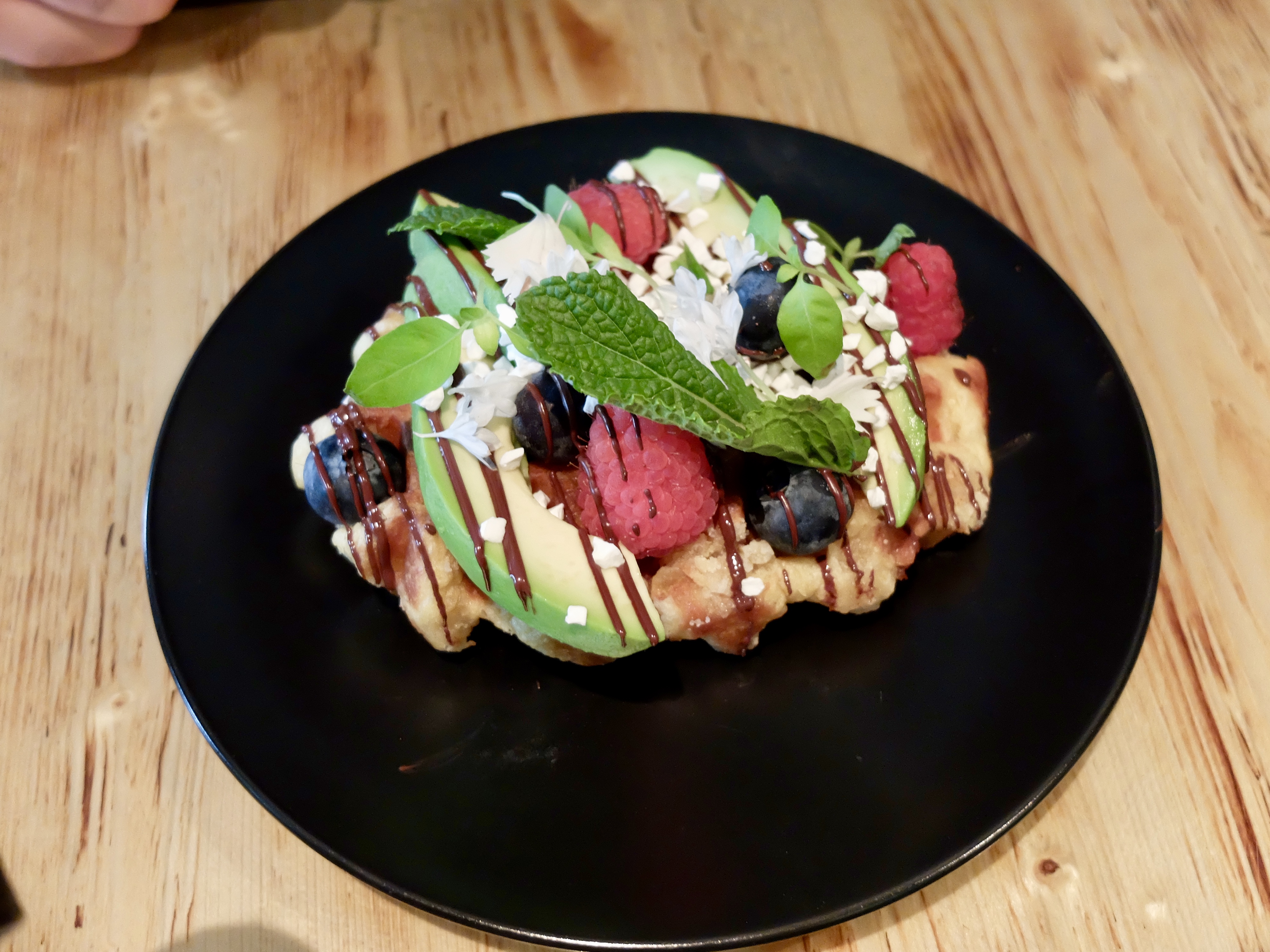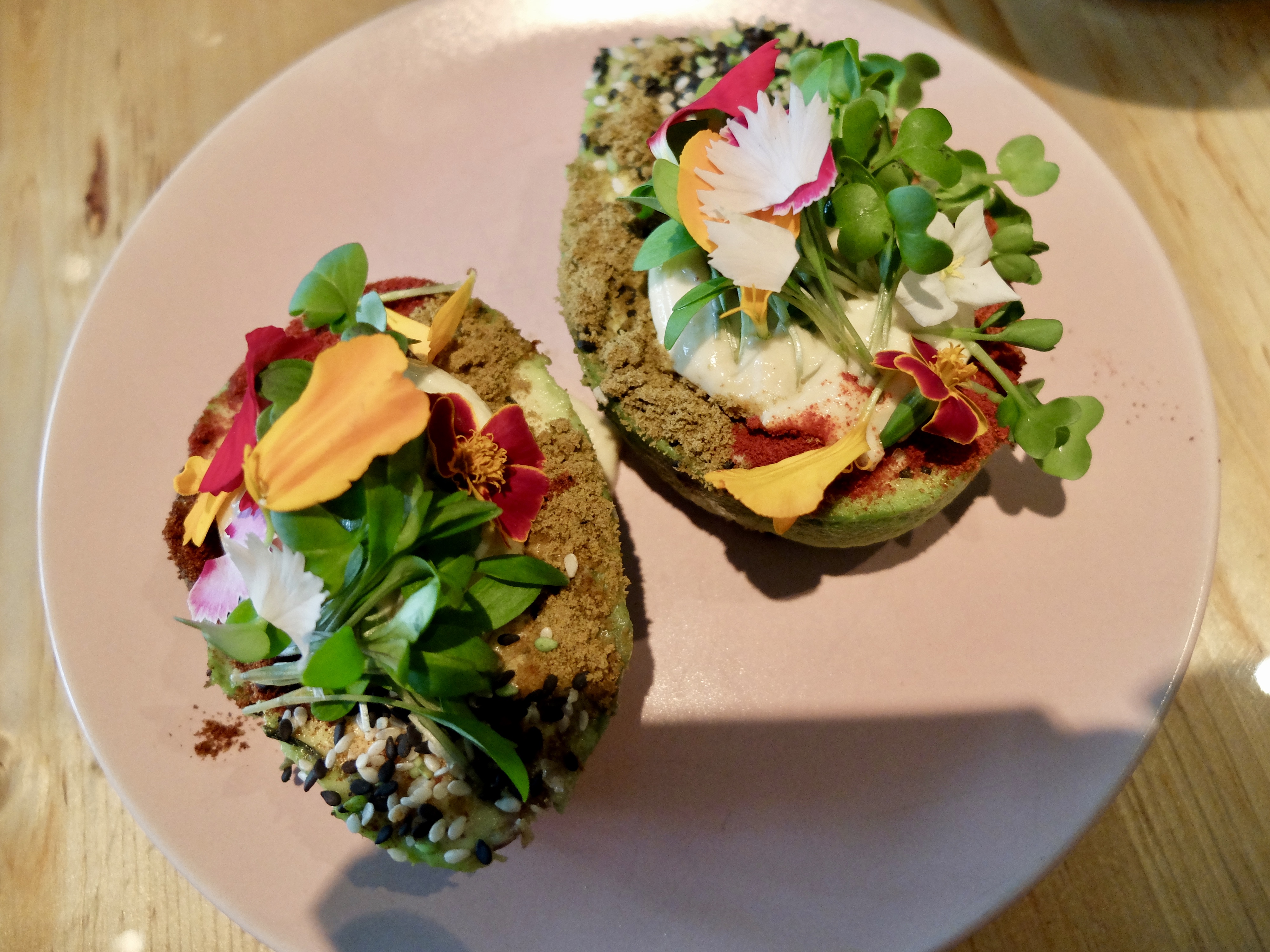 Vleminckx Fries 
Sometimes, the best way to see a city, is to pick a destination and wander until you find it. You see so much in route that you may have missed otherwise! This was the case with this random french fry shop. A friend of mine sent me a text in the middle of our trip, telling me she was watching a travel show and they talked about this famous french fry stand. We were getting hungry, so we made it our target. You order small, medium or large fries, and then you choose your sauces. I chose sambal, which was a lot spicier than I realized in such a large quantity, and I should have gone with my favorite – mustard. BUT the fries were delish and it was so fun. It's seriously just this little french fry stand that is insanely old and insanely popular (with good reason). It was a fun adventure to find 🙂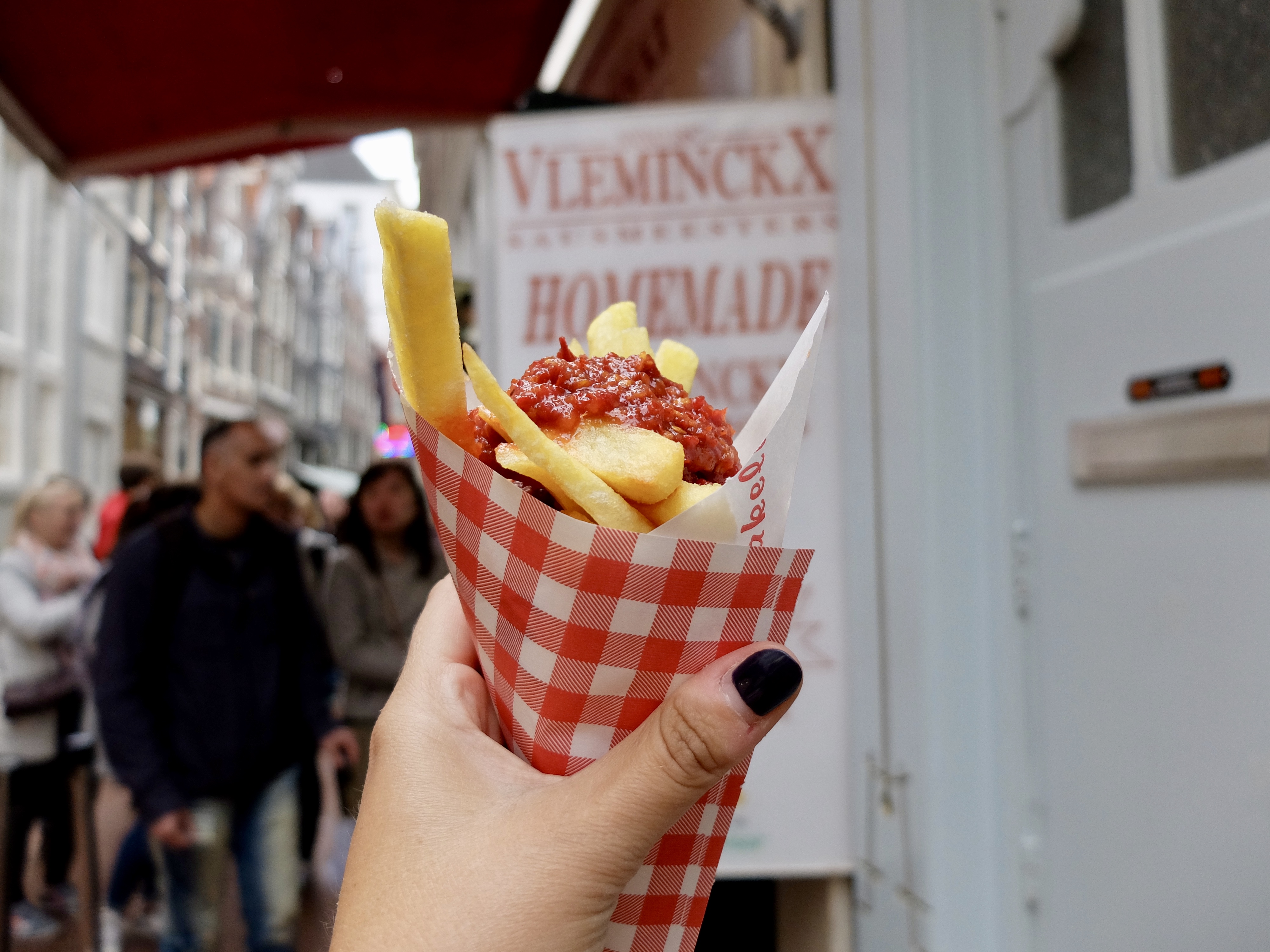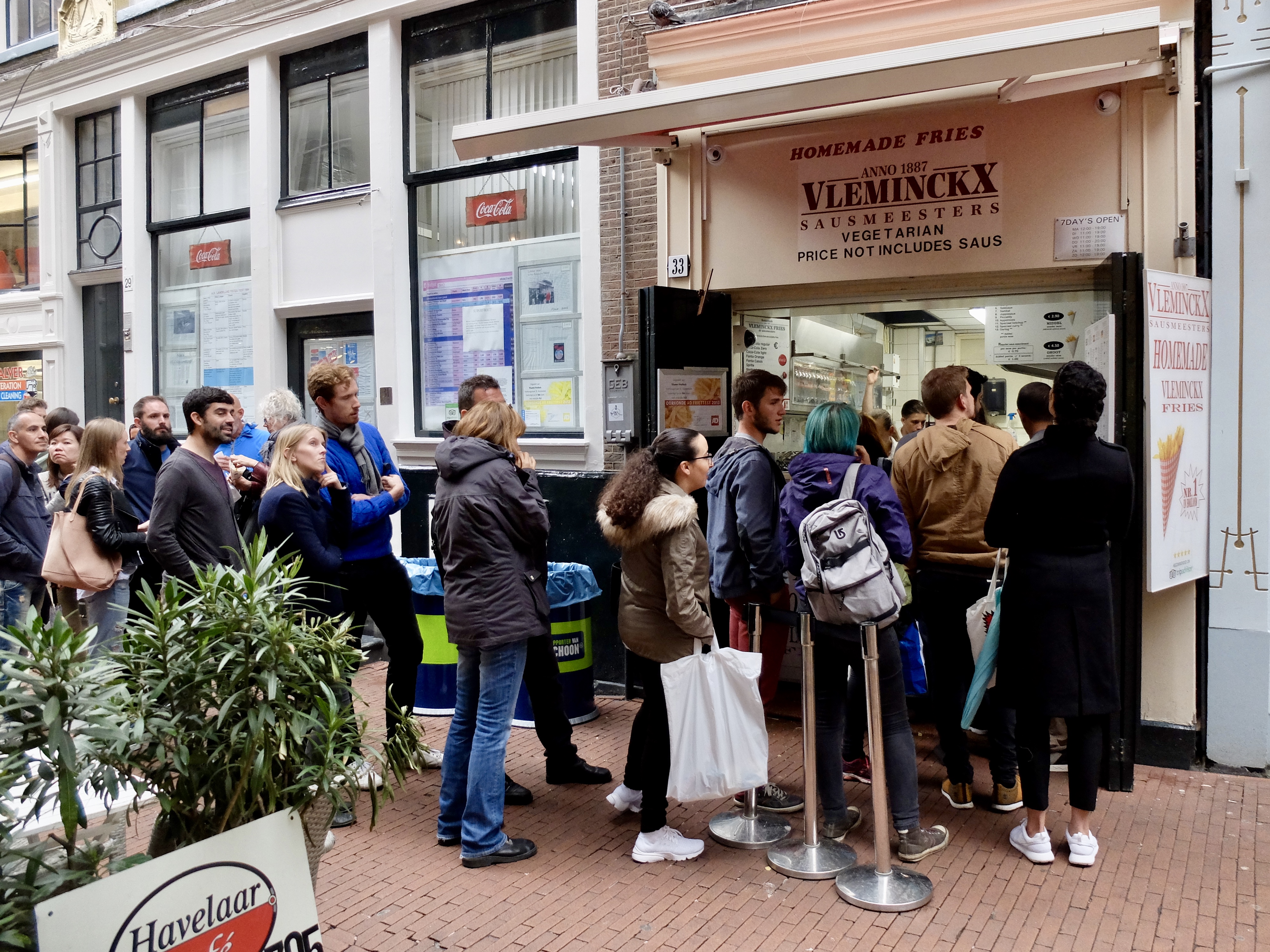 TED'S
There's no faster way to our hearts than the words "all day brunch". Matt and I both love breakfast, and we love it ALL DAY LONG! I might relate a little too much to the scene in Big Daddy where he shows up to McDonald's 5 minutes after breakfast stops (not the McDonald's part, but the end of breakfast part). It's always sad news. This place was really adorable with good food! We sat on their little patio until it started to rain (we were just finishing our coffee) and we moved inside. I'm so glad we did! The inside was beautiful. Ted's was also tucked back in a very neighborhood feeling area of town, and I believe most of the people around us were locals. It's always nice to stumble upon a local favorite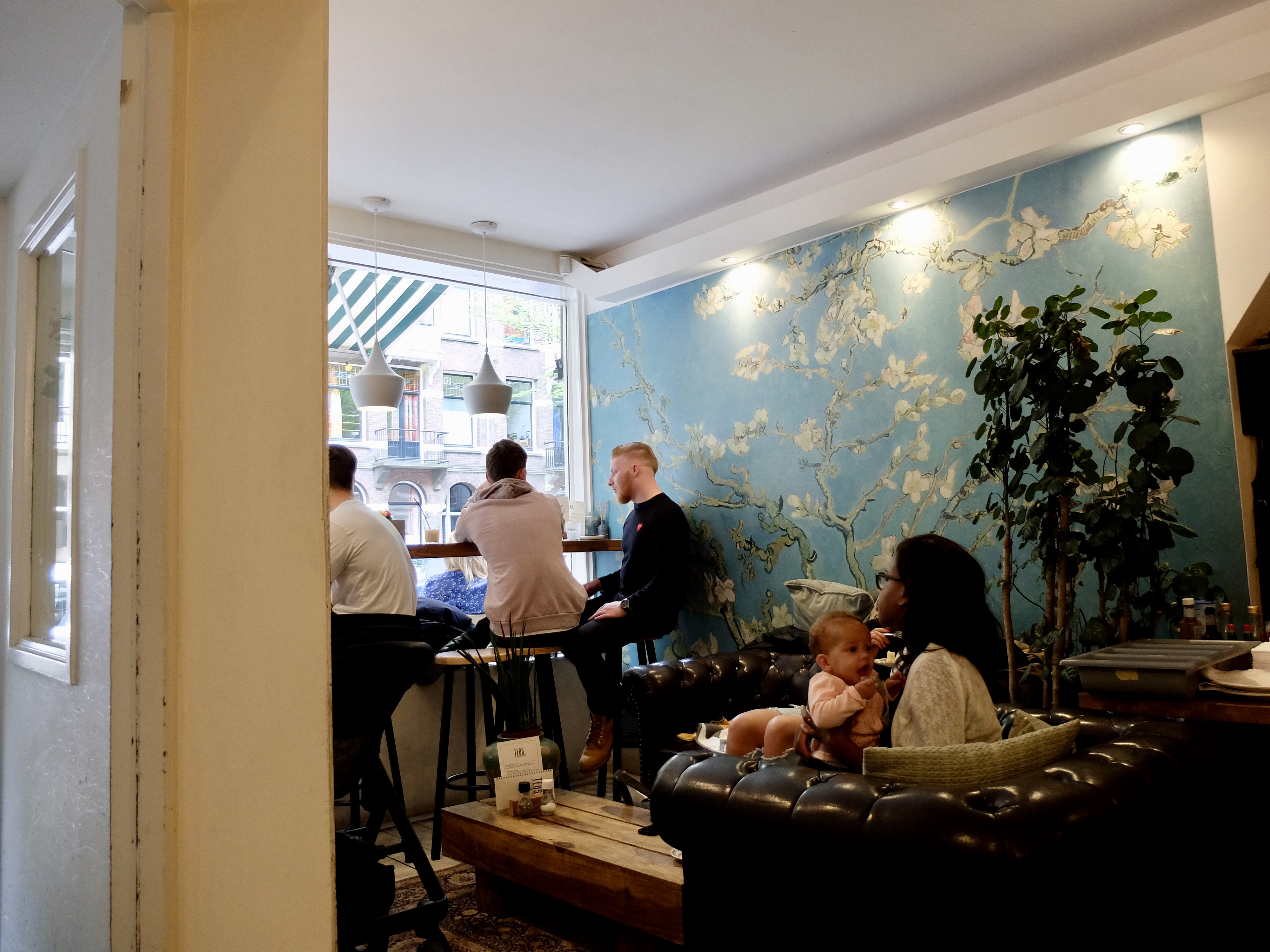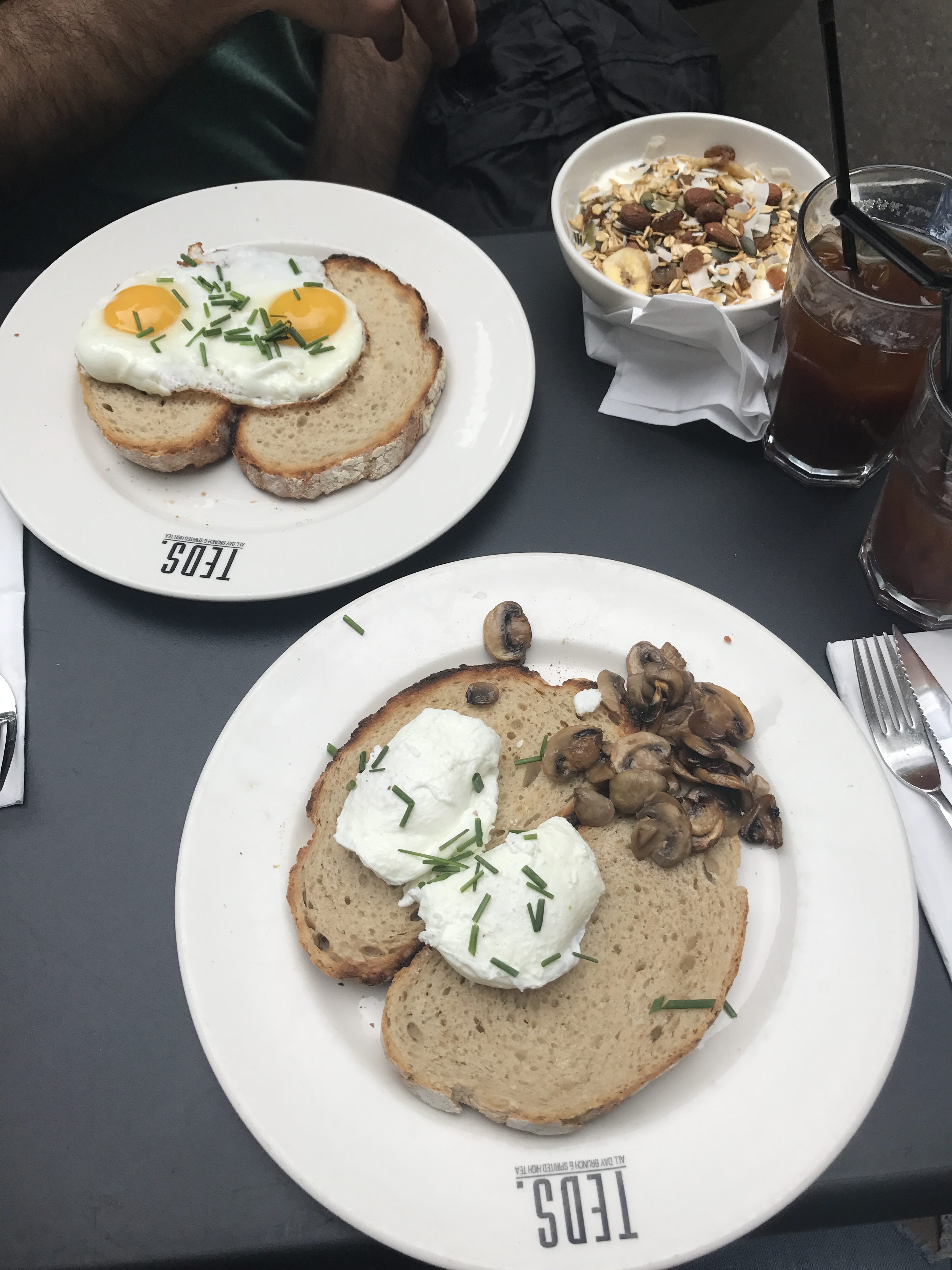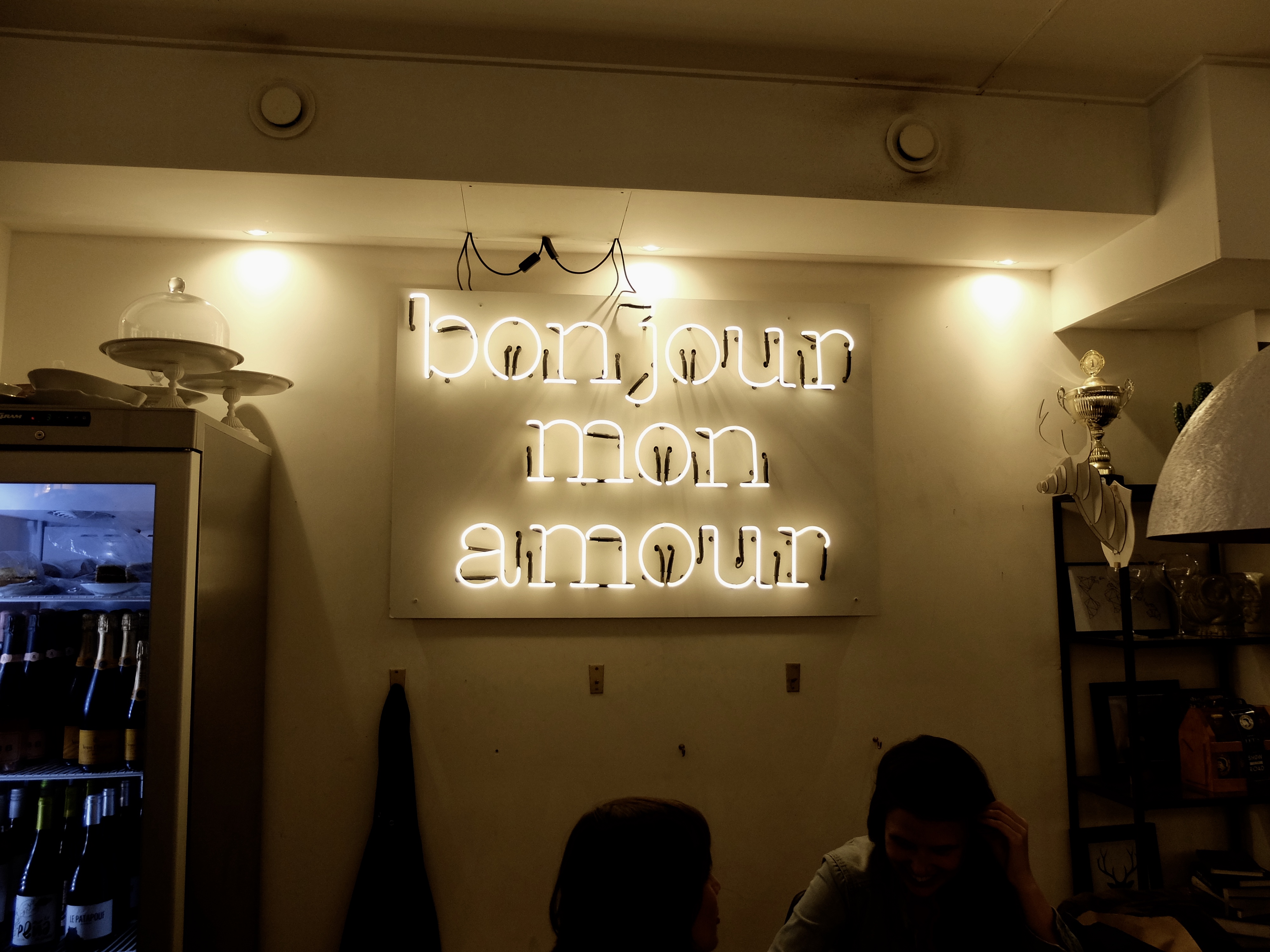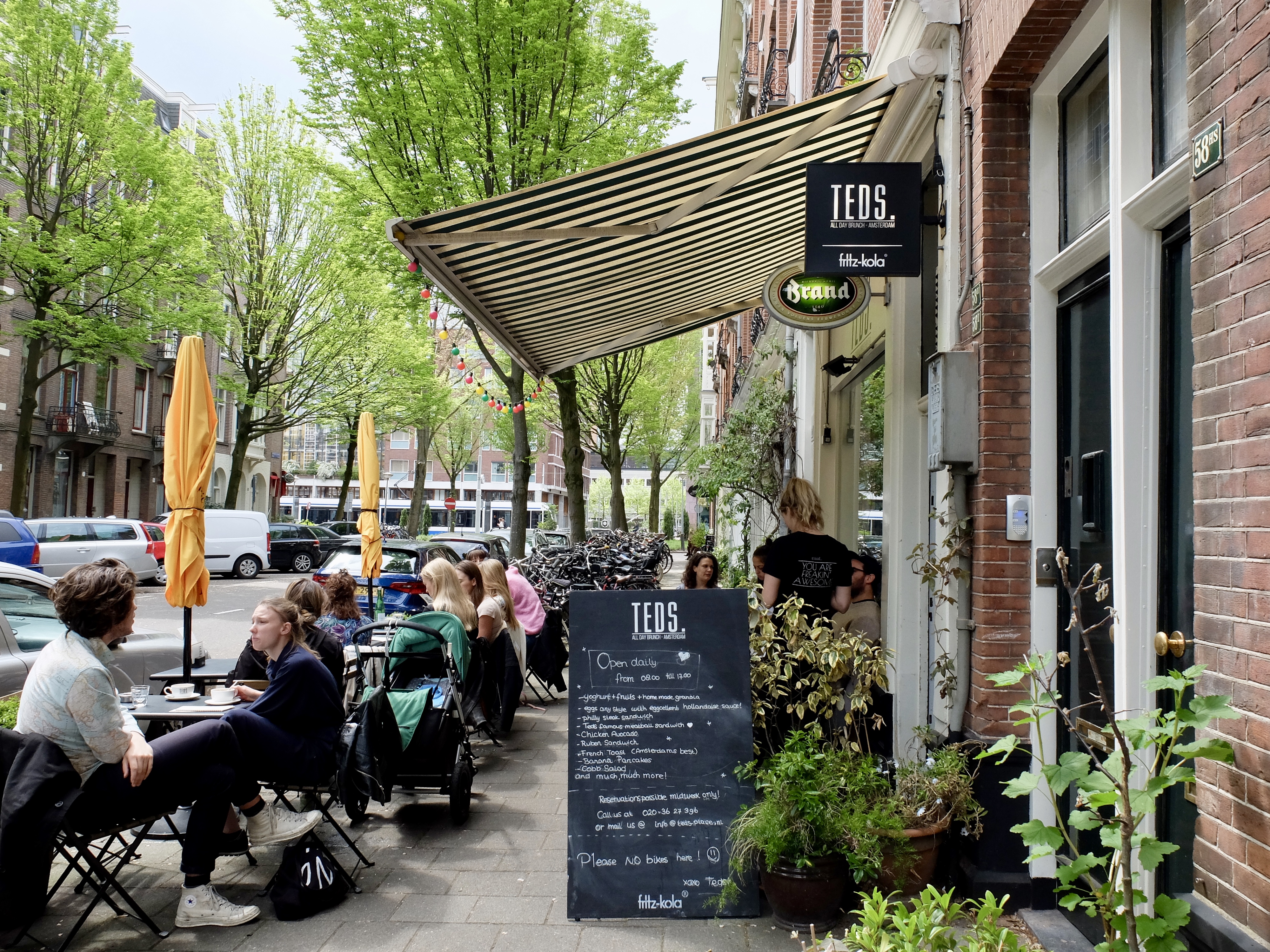 WINKEL 43
If you're in Amsterdam, cancel all of your other plans, and make sure you get a piece of this pie. It was truly the most perfect piece of apple pie ever created! I had two different people, from two different circles of friends who specifically told me to get this pie, and I will be forever grateful (Sarah, Antonio – I owe you one). My only regret is not getting it earlier in our trip…. because I would have loved to have it twice. What I'm also thankful for was ignoring my instinct, which was to share a piece and skip the whipped creme. Normally I don't really care that much about dessert… but I would have been super sad if I had to share this, and would have never known what dreams taste like if I skipped the home made whipped creme. Seriously – make sure this is on the top of your list! It's not far from Anne Frank house and other attractions, so there's no excuse. We got ours to-go while we did a canal tour, but there's no bad place/time/way to eat this pie.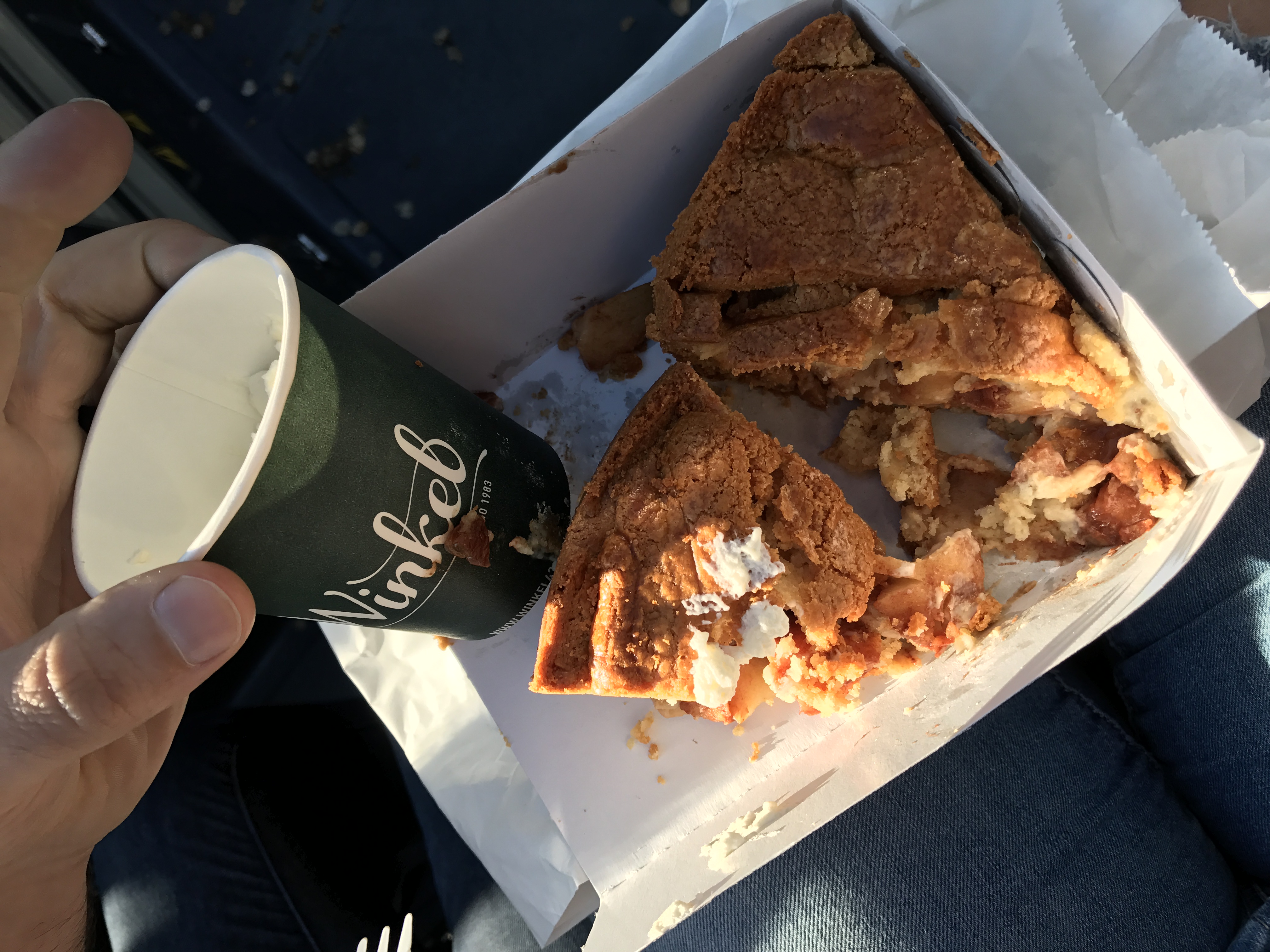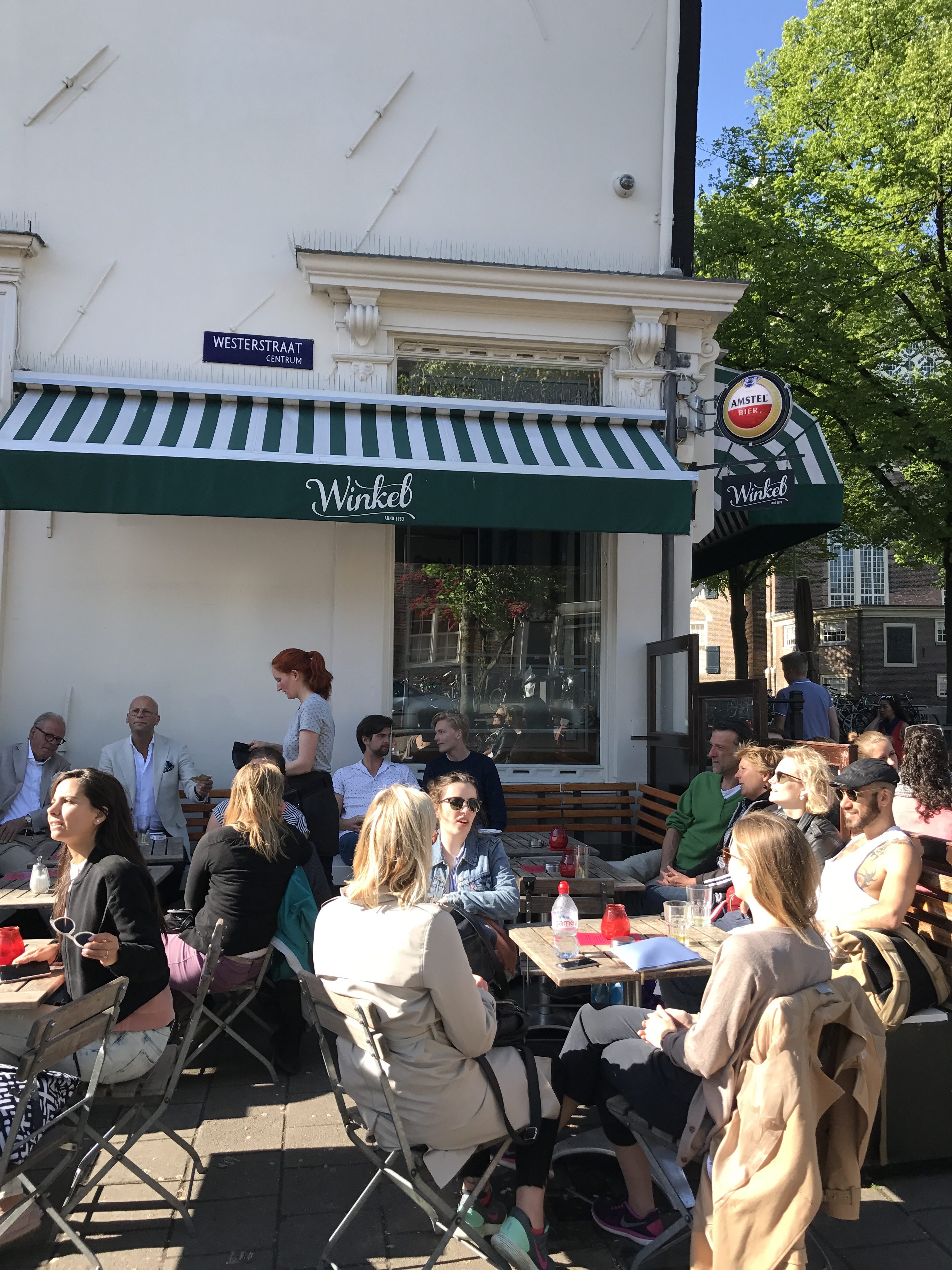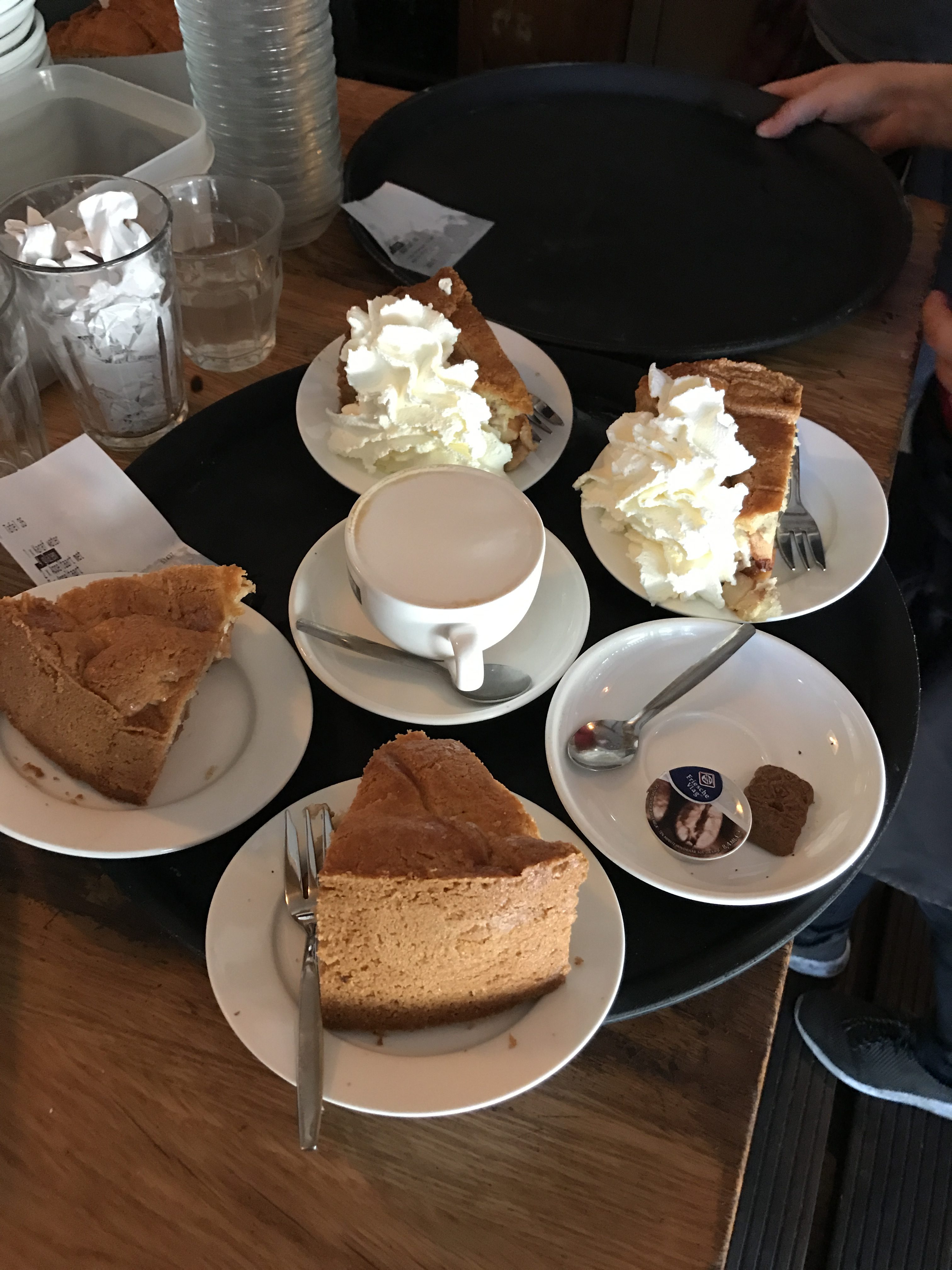 Brouwerij't IJ
I mentioned this beer earlier in this post. We ended up at this brewery because I wanted to see a windmill. True story 🙂 I Googled "windmill in Amsterdam" and found this awesome brewery…. which is even better! We sat out on this amazing patio and got to talk to a few locals who have lived here for 30 years. We did the flight, which was awesome, and shared some of the cheese (make sure you get it with the seasoning!). They offer brew tours but we were enjoying our patio spot too much. It was such a fun spot and definitely worth a visit.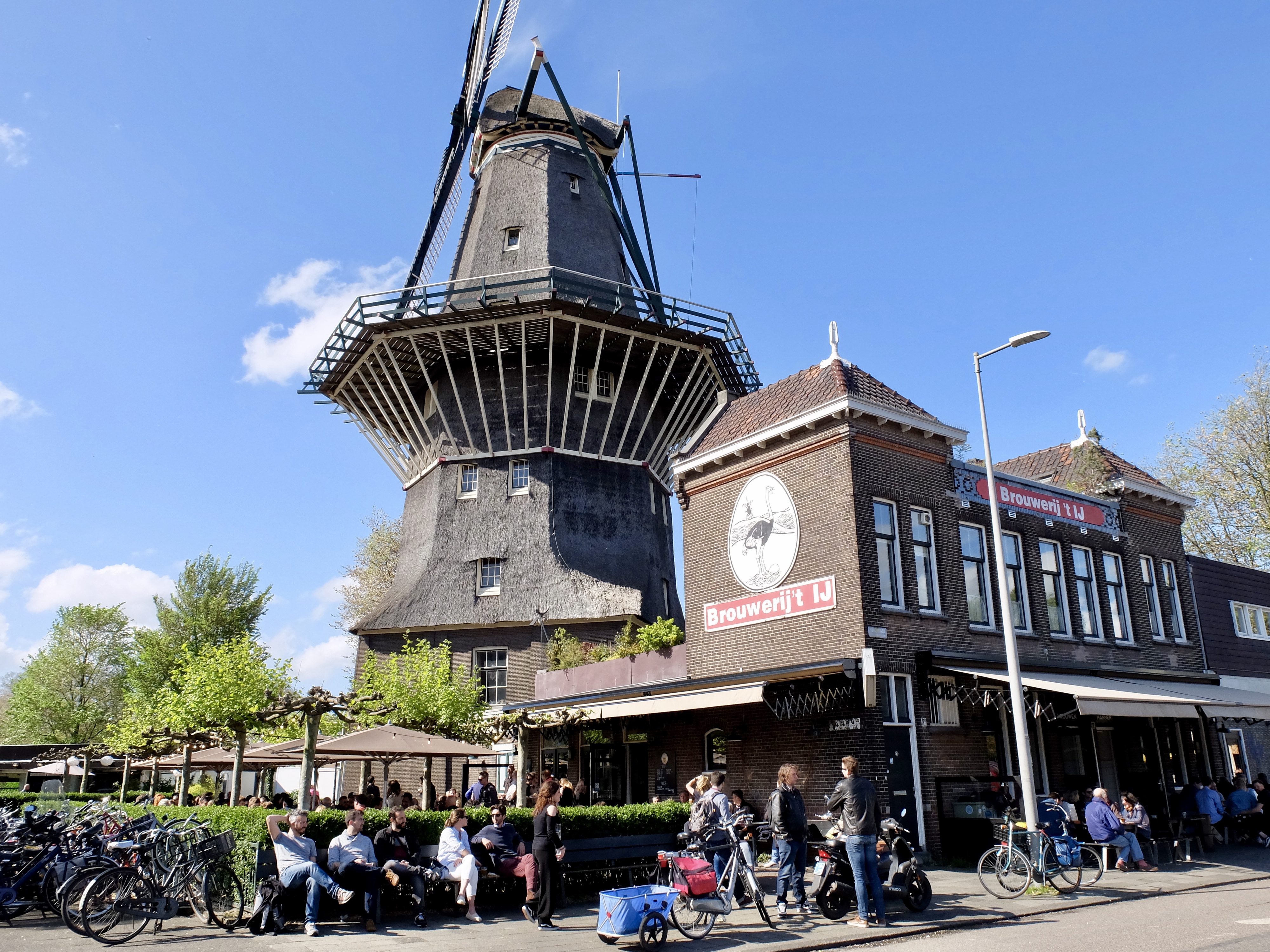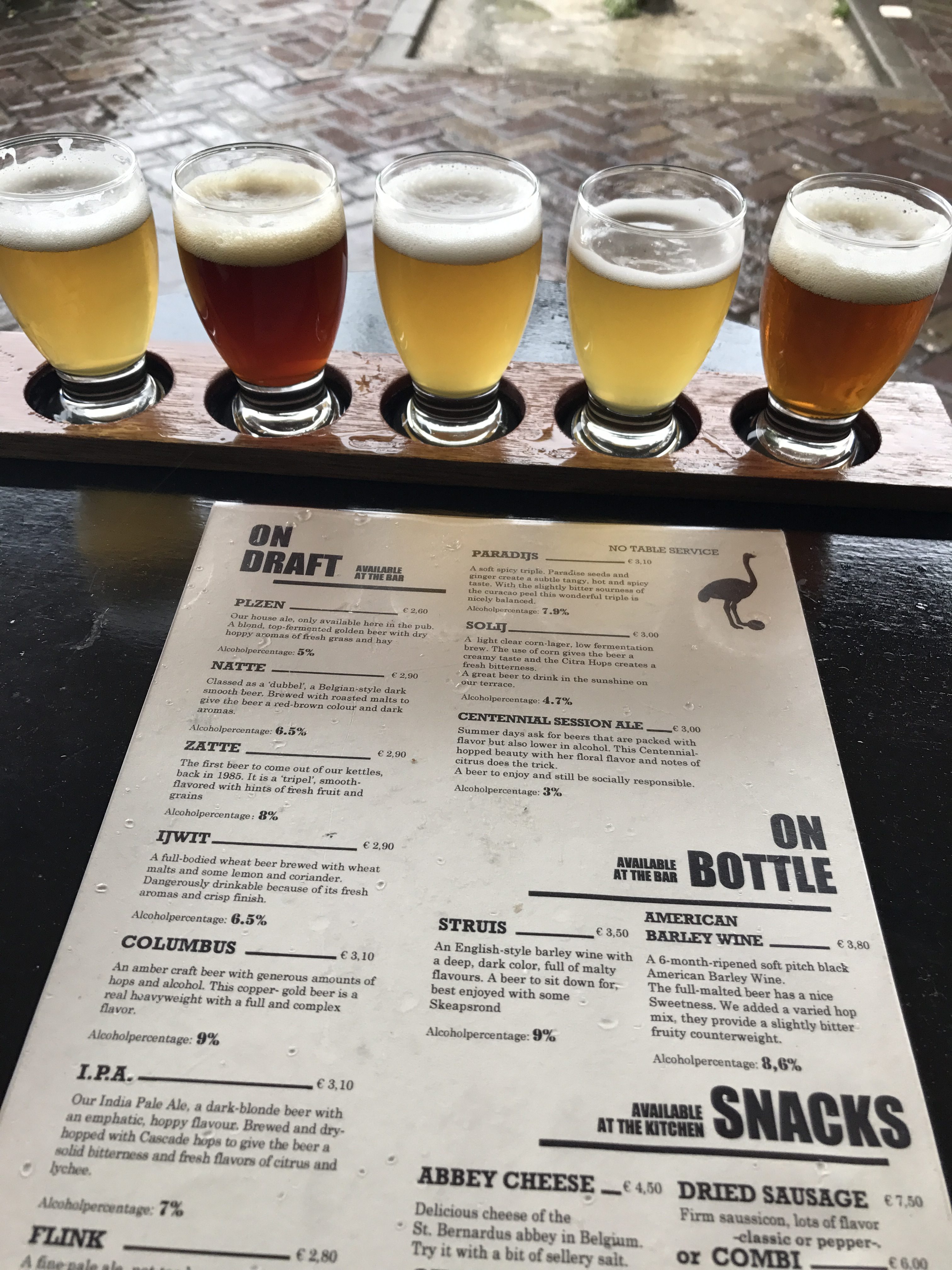 Caffe Milo
Caffe Milo was another proximity choice. We stayed in the Oosterpark neighborhood and ended up eating dinner around there most nights. The funny thing about being in Amsterdam in late spring, is the days are so incredibly long! It's not dark until nearly 10pm. So we weren't getting hungry for dinner until 9ish each night. This night, we had been out and about all day, and snuck in just before the kitchen closed! It was pretty late, hence these super dark photos. We ordered a few things to share, and everything knocked it out of the park. Specifically their soup, which was one of the specials, had great flavor.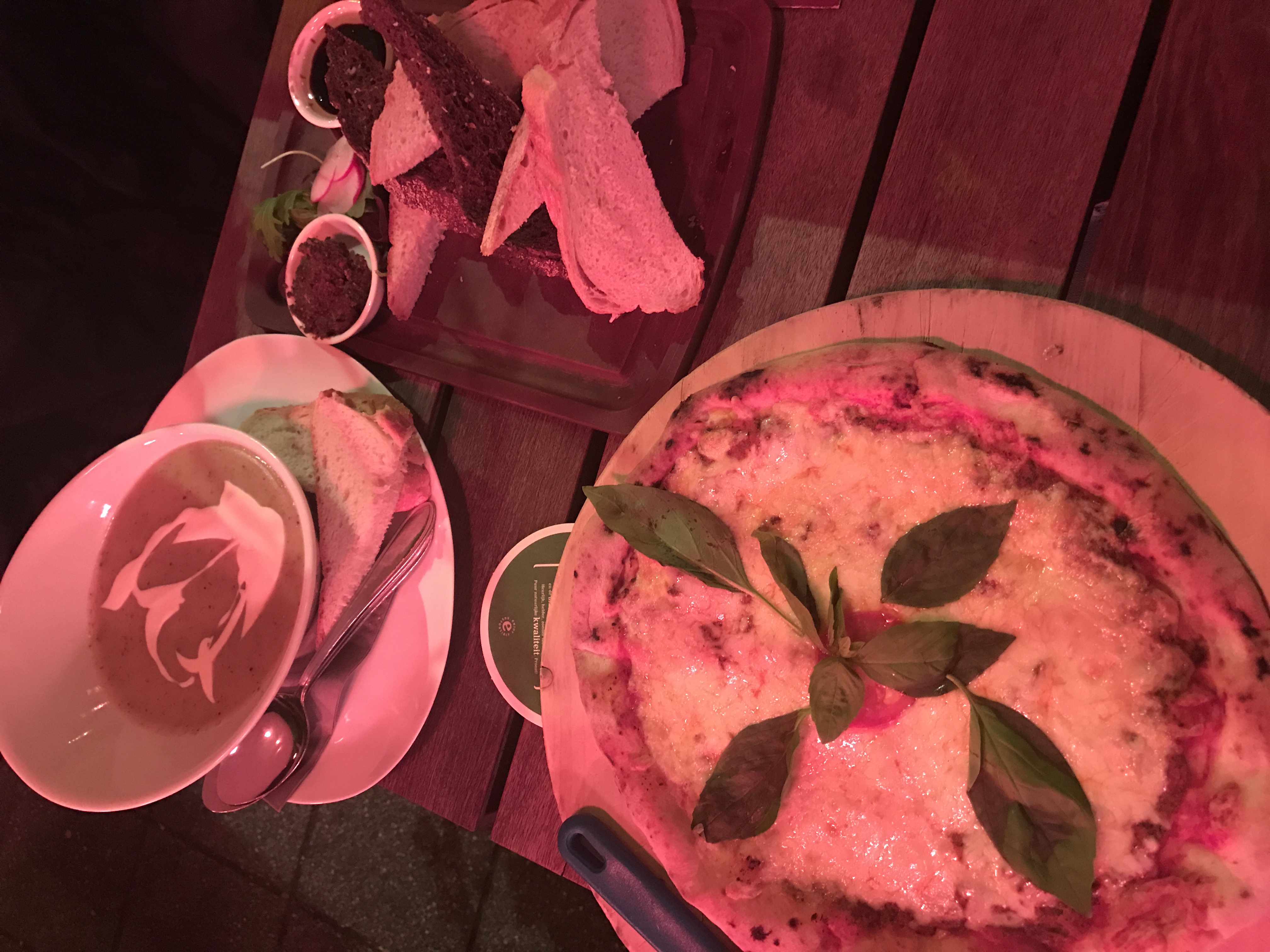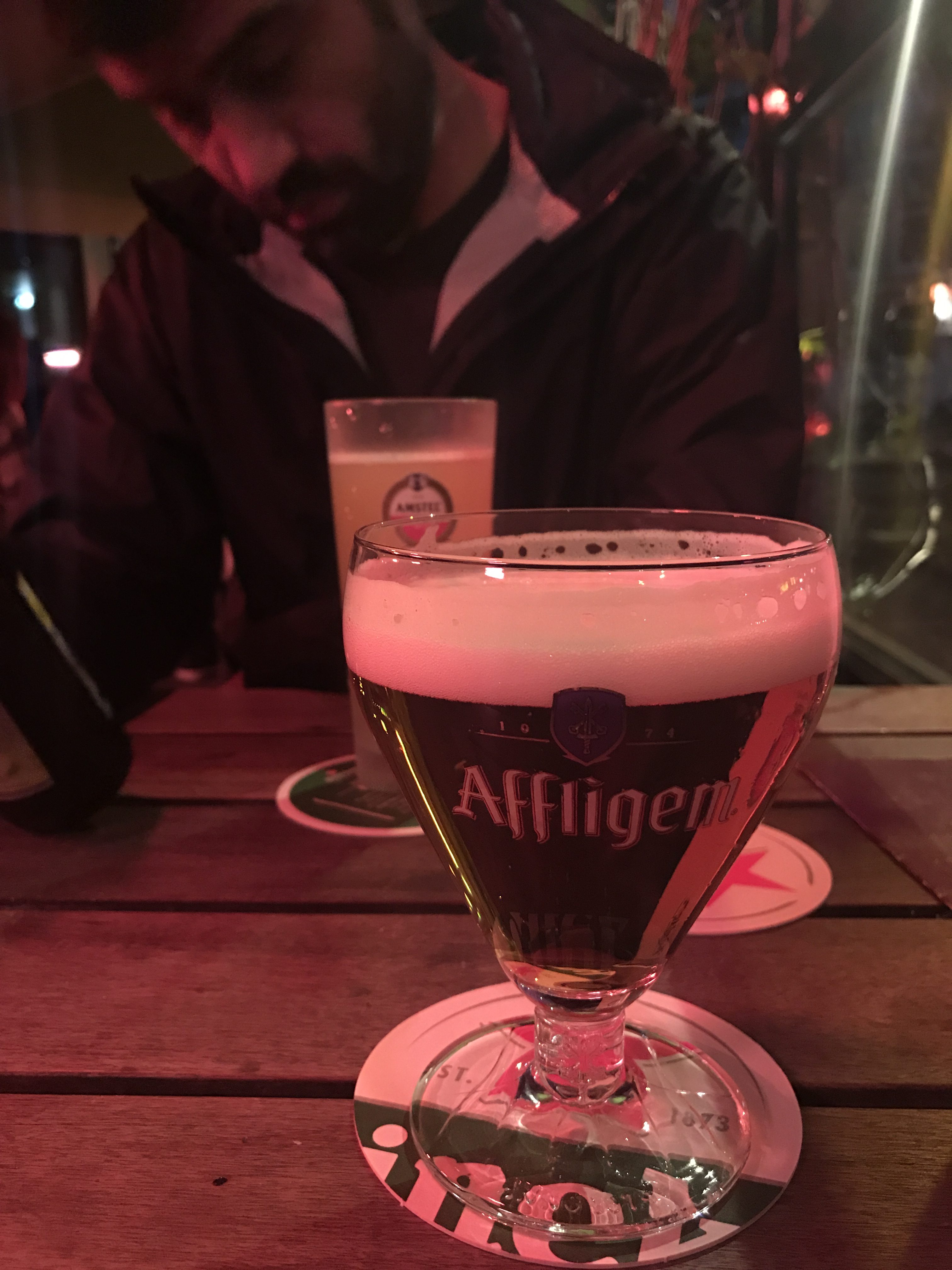 Baker's & Roasters
This breakfast was a long time coming! This was a recommend from one of Matt's oldest friends, who has been to Amsterdam several times. This is a cafe which is run by a couple with different cultural backgrounds – New Zealand and Brazil. They combined their love for food in this restaurant, and it did not disappoint! If you offer me halloumi cheese for breakfast, I will always say yes! Not to mention poached eggs, marinated mushrooms, and perfectly ripe avocado – I was in vegetarian breakfast heaven. I was so full and wasn't able to finish this meal, which was truly sad. Our flight was a few hours later,  or I would have taken the leftovers with me. We tried to visit a different location earlier in the trip, and were quoted a 2.5 hr wait! It was a weekend, so I suggest trying it during the week if you can. This breakfast made me miss New Zealand so much! We had so much halloumi on that trip 🙂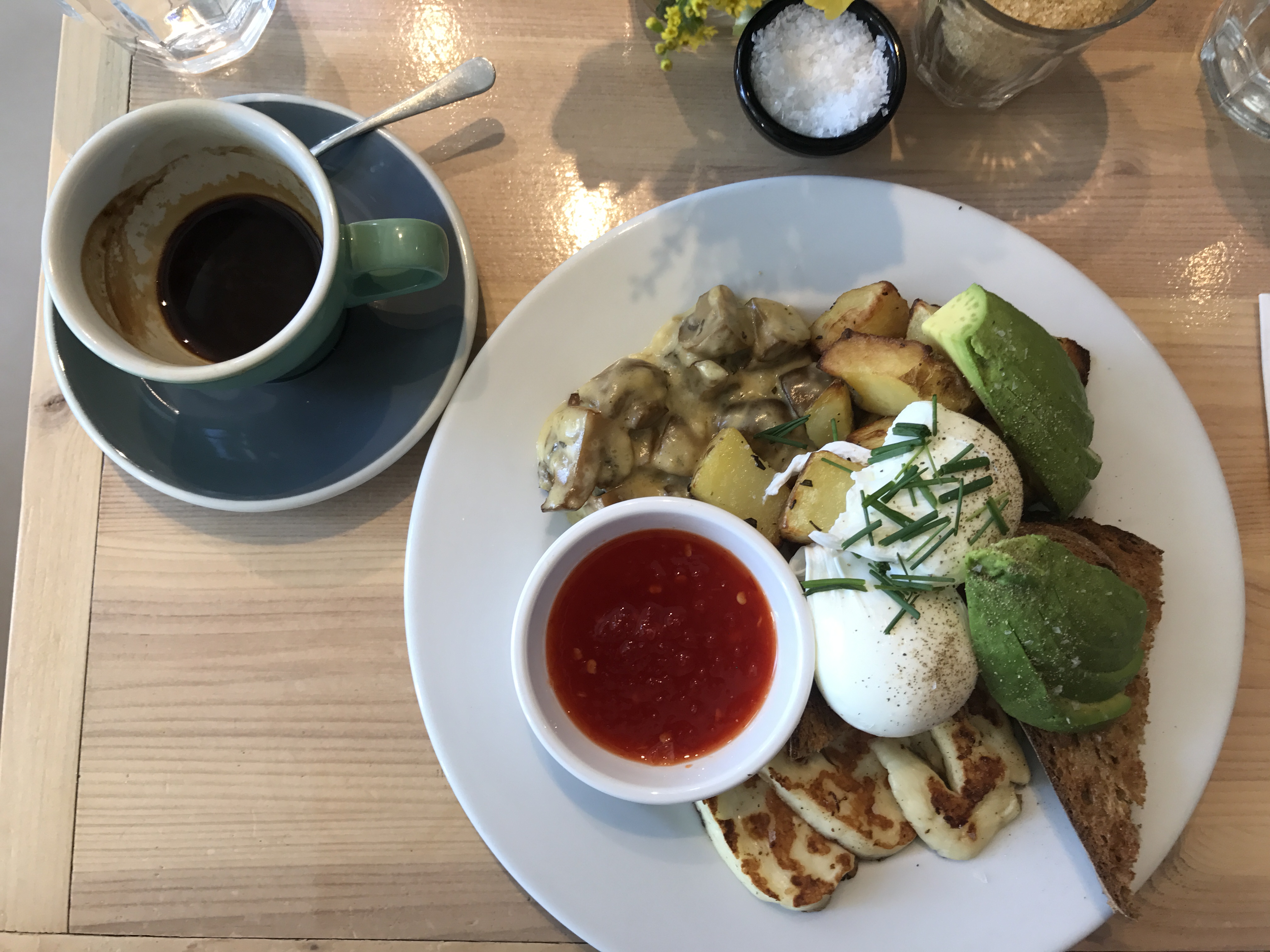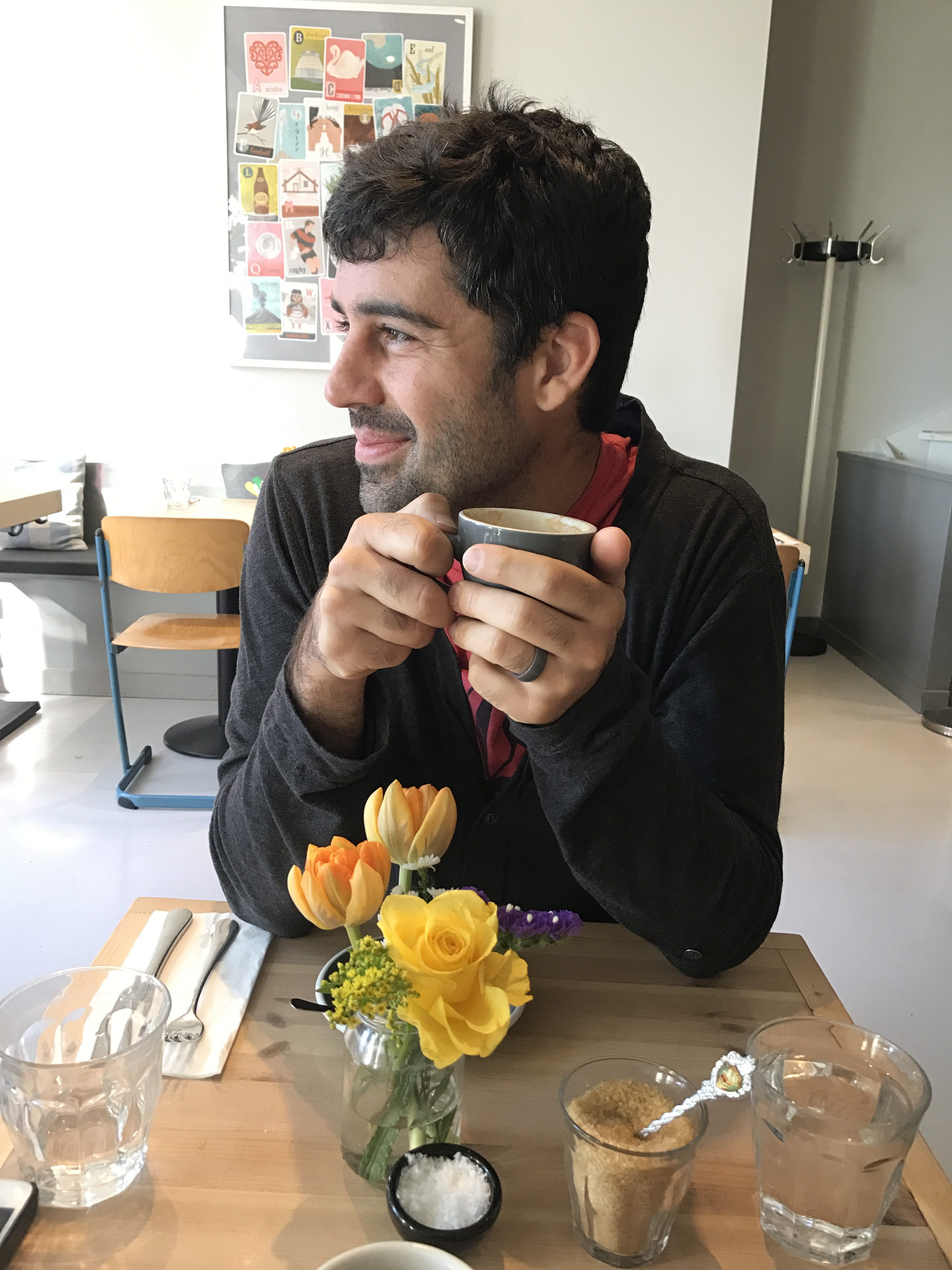 I don't know if I could pick my favorite meal, they were all pretty great! I could definitely pick my favorite dessert, which was Winkel's Apple Pie (seriously, go get some). I did love the general culture of eating out in Amsterdam which was casual, full of flavor, usually on a patio, and accompanied by a good beer!
I'd probably go back to most of these places if we visit again. But I'd love to hear any recommendations to your favorite restaurants in Amsterdam! Let me know if you have any recommendations in the comments!
xo