When I lived in London, I had a lot of friends who biked to work. Each of those friends had been hit or run off the road more than once – the idea simply terrified me! I told myself I'd never bike in a big city, because I wasn't sure I was up for the challenge! However, I got over my fear and rented a bike in Amsterdam – and absolutely loved it.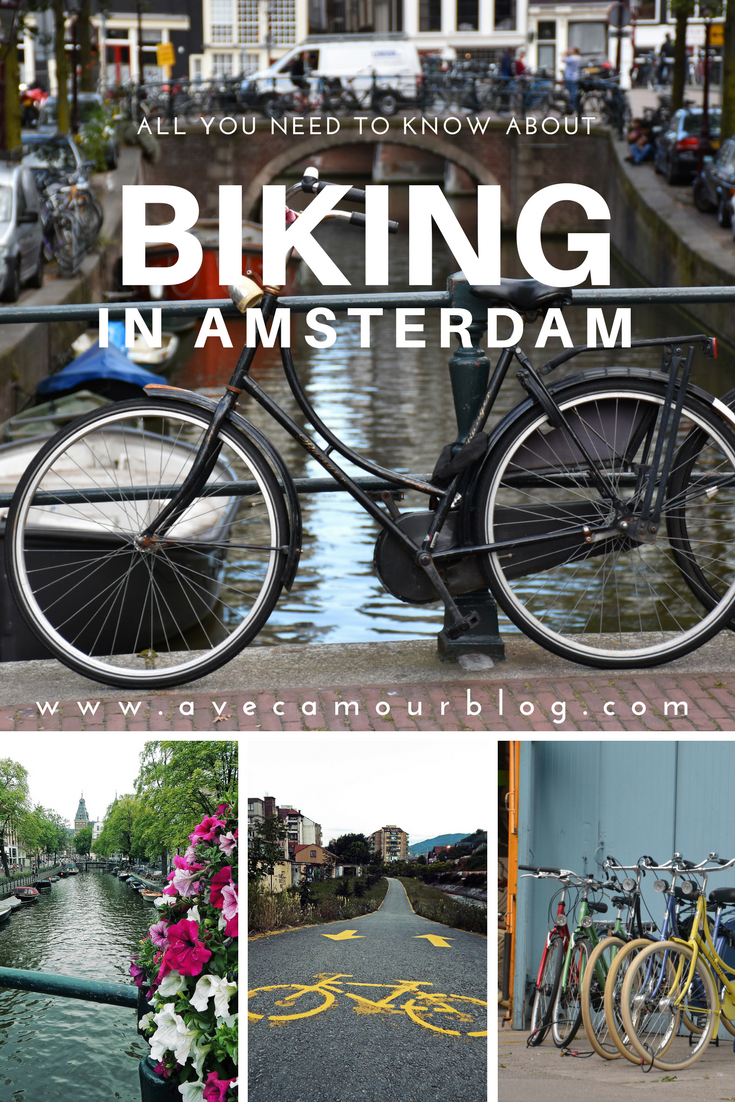 Here are a few things you might not know about biking in Amsterdam!
1 – There's a dedicated bike "sidewalk"
What's really unique about biking in Amsterdam is that you have dedicated bike lanes on the SIDEWALK. This sounds strange, but you're slightly elevated from the street, and in your own special lane. It's actually a little more nerve wrecking to be a pedestrian because there are bikes everywhere! It's much wider than normal bike lanes, so there's plenty of space and you're able to pass (or be passed, in my case) easily.
2 – Follow the Bike Lights
Just like crosswalk signals, and traffic lights, the bikers have their own special lights. How fun is that?! Part of my beef in most cities is that bikers follow car rules when it suits them and follow pedestrian rules when it suits them – it makes it hard to navigate when you don't know what rules they're following. But in Amsterdam, they have their own lanes and their own lights! So you know if you have the right of way by looking at the little bike shaped lights 🙂 It takes all the guess work out of it.
3 – Mopeds count as "bikes"
There were a few questionable bikes in the bike lane… mainly scooters and mopeds. I'm sure there is a certain speed or RPM/power (??? seriously, I know nothing about cars) that's permitted, but it can catch you off guard at first. However, they'll likely just go around you, so just keep doing what you're doing and don't worry too much about it.
4 – Lock up!
Surprisingly, most of the canals are FULL of bikes. It's the #1 thing pulled out. A lot of teenagers like to throw bikes in and it's actually the #1 thing stolen. So make sure you get a good lock when you rent your bike and lock it to something sturdy like a bike rack or a bridge guard rail. We would have been charged like $250 if we lost our bikes…. so make sure you keep it safe.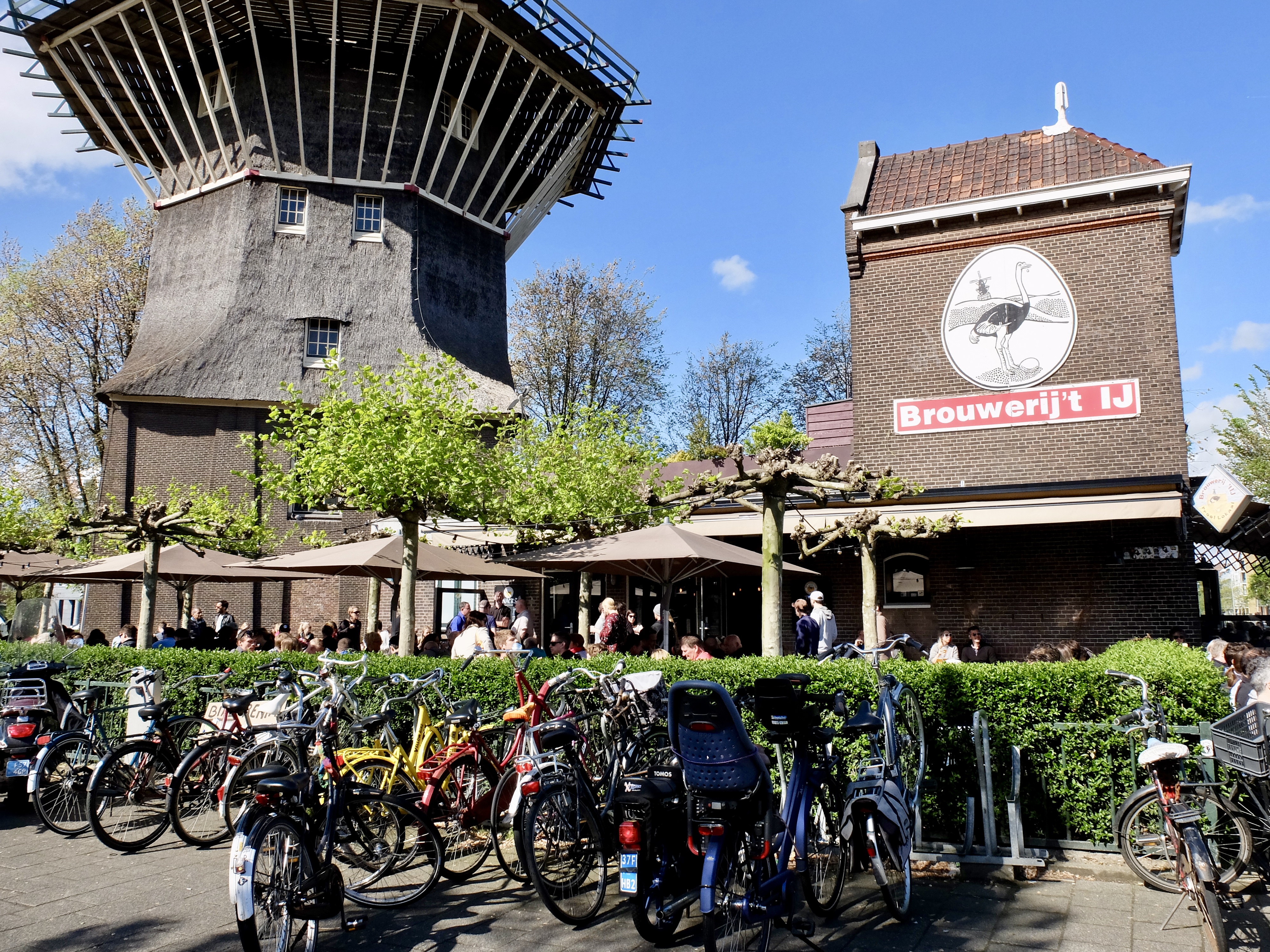 5 – It's the best way to get around
Amsterdam is not a huge city – it's quite small, actually. We were able to bike across town in like 25 minutes and cover a lot of ground! If you're only in town for a short amount of time, I'd really suggest going the bike route. Walking is still nice and you'll still see a lot, but biking makes getting from point A to point B a little more of an experience, AND you'll get there faster!
6 – Check with your Airbnb or Hotel
We were able to rent our bikes from our hotel, which made things SO easy. We didn't have to worry about where we'd take them. Some hotels and Airbnb's may even include bikes in the price of your rental, so it's worth asking. If you have a choice, get a bike with a basket so you're not worried about carrying a purse or backpack, or even a jacket if you get warm while riding! If you can't rent from your lodging, there are tons of bike rental places around town. Pick one close to your hotel/Airbnb so you can easily return when you're done!
7 – Bring layers
When we visited, it was in the 60's and not super sunny. However, once we started biking, I warmed up quite a bit! I actually was glad I wore a rain jacket because it blocked the wind a little bit. But no matter the time of year, I'd suggest you bring a layer or two so you can be comfortable. There were different points where I had my rain jacket and scarf on, and other where I was in my tank top and a little warm!
8 – It's easy! And so fun!
Biking in Amsterdam was so easy. Partially because all of the things I listed above, plus everyone is doing it, plus it's nice and FLAT! This Florida girl was in heaven knowing there were barely any hills (even biking up the bridges weren't hard as they're all pretty low). You don't need a bike with a lot of gears, just one with full tires and a comfy seat!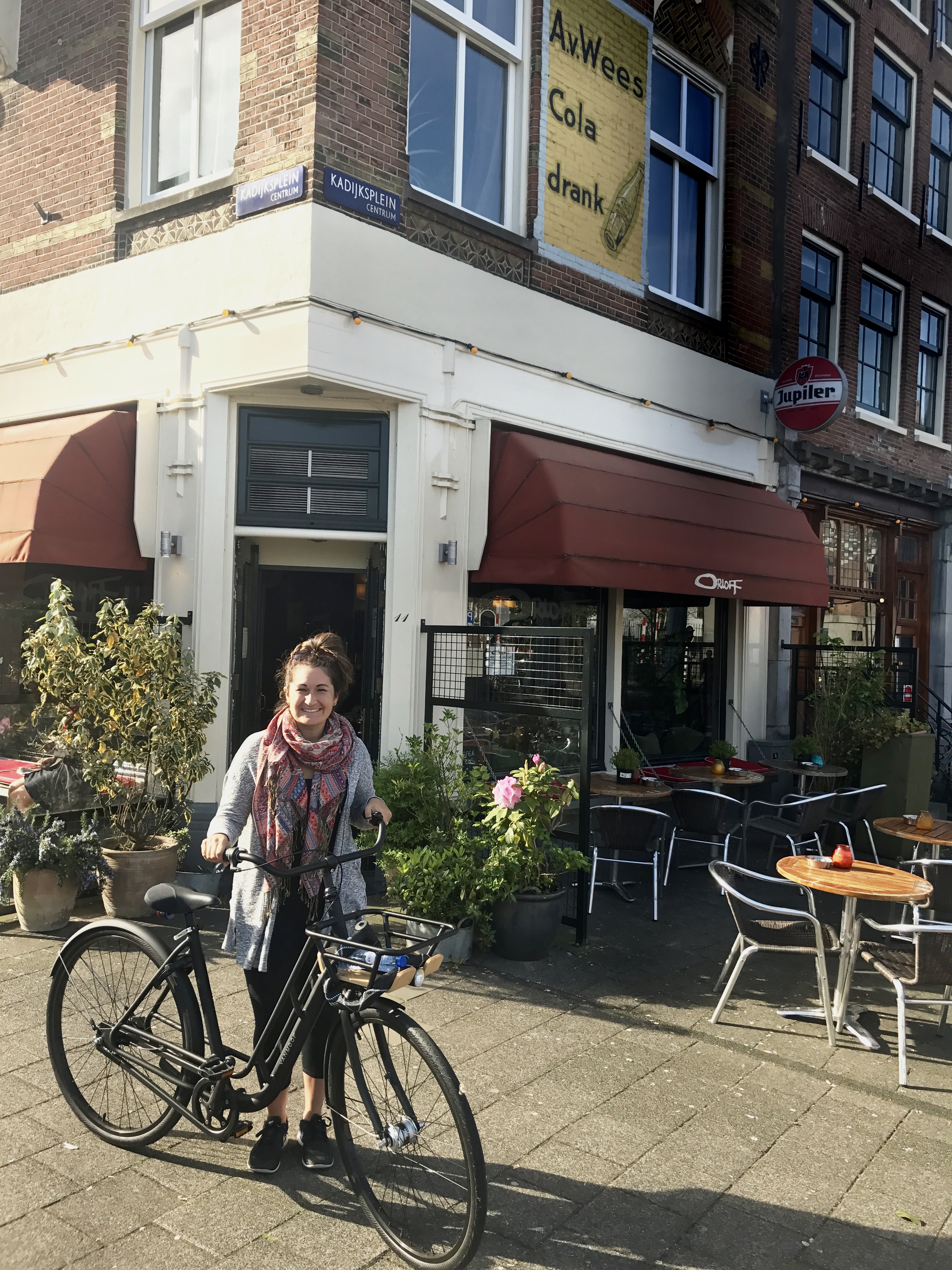 Honestly, I LOVED biking in Amsterdam. It was such a great way to get a feel for everyday life there, a great way to get around, and overall really enjoyable! I'm sad Nashville is so hilly (and I'm a wuss!) because I really do love riding around on a beach cruiser 🙂 If you're in Amsterdam, even for a day, make sure you rent bikes!
xo
Other Links You May Enjoy:
Our Amsterdam Hotel
The Best Canal Tour in Amsterdam
Where to Eat in Amsterdam
Amsterdam Packing List